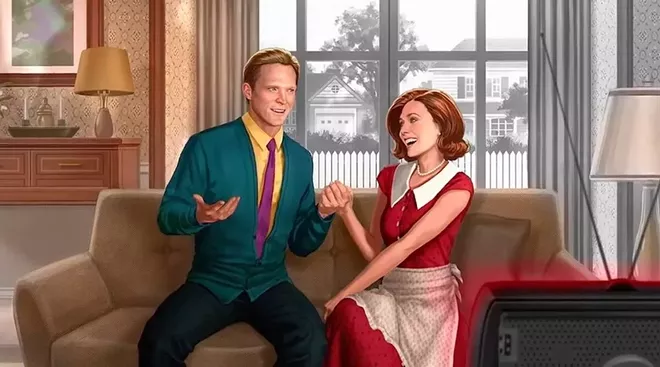 By Kaylee Brewster
Plugged in
As Marvel fans wait for the pandemic to end and superhero films to return to the big screen, Marvel Studios released a TV show on Disney+ that could satiate their appetites.
"WandaVision" is the Marvel Cinematic Universe's first crossover to Disney+ with Elizabeth Olsen and Paul Bettany continuing their roles.
This show is a clever mashup between TV and comic books. It has nostalgic genius in its throwback to classic TV sitcoms, and it gives more screen time to its two superheroes than the films.
The show also is really, really, really weird.
"WandaVision" starts off in '50s TV-era black-and-white, with references to "The Dick Van Dyke Show" and "I Love Lucy." It includes a nosey best friend and neighbor in Agnes (Kathryn Hahn). The actors also change their diction to reflect the accent of the era.
However, this also is Marvel. Wanda (Olsen) and Vision (Bettany) use their superpowers as they try to pass as a "normal" couple in their quaint suburban town. As the show continues, something sinister can be sensed behind the laugh track and the idyllic neighborhood. Occasionally there are glitches, moments where color emerges in the black-and-white world (before turning into full color). The radio turns on automatically and speaks directly to Wanda. All this suggests that all is not right with the world in "WandaVision."
While most films and TV shows in the Marvel Cinematic Universe don't require much background knowledge, "WandaVision" seems to be more geared toward comic book fans. The reality-altering world draws heavily from the comics that focused on Vision and Wanda's relationship and Wanda's tendency to create alternate realities. This background isn't really explained in the TV show, so the audience is thrown into the deep end of comic book lore.
Still, if you manage to swim to the surface, "WandaVision," provides humor and mind-bending twists and turns for all viewers, regardless of how well you know the back story.
Who knew that combining modern superheroes and classic sitcoms would work so well?
https://www.youtube.com/watch?v=khS1KN7E_yE