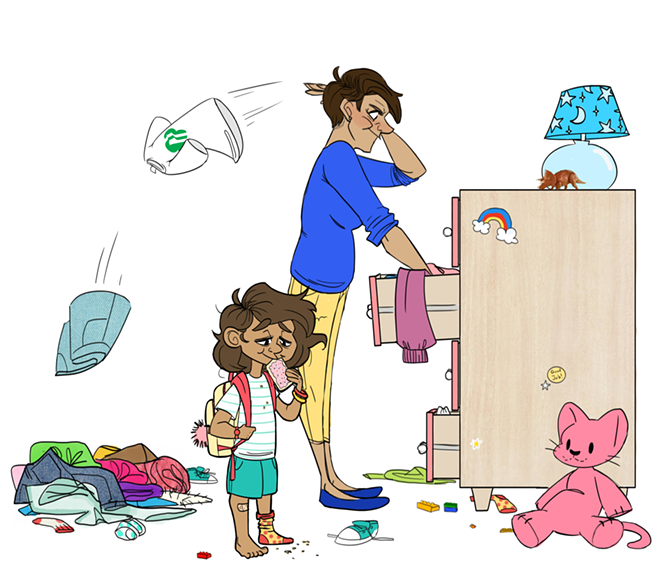 By Danielle Seideman
Commentary
The beginning of the school year is always bittersweet. The end of summer vacation is either an exciting moment or a sad moment for parents and kids.
While dropping kids off on the first day of school, one might notice parents trying to hold back tears while leaving their kindergarteners because sending your baby off to school is a huge deal. Then you see parents of older kids practically kicking them out of the car because summer with kids who need constant attention and entertainment is exhausting.
When school begins, life can get very hectic and it almost seems impossible to keep up with the chaos. Completing daily chores, keeping up with homework and finding quality time to spend with the family can be hard. I would be lying if I said I didn't send my kids to school with mismatched socks and an unbrushed messy bun once in awhile.
Planning out the week is one way to help keep the chaos to a minimum. Although some people are more organized than others by nature, creating an organized system for your family will benefit the entire household. Some days my household is smooth as an ocean breeze and other days it looks as though Godzilla trampled through our home. At the end of the day, as I lay my head on my pillow feeling like my kids have siphoned all the energy out of me, I know there must be a better way. Maybe a book on being the perfect parent? Because, clearly, that is the only answer, right? Until that book arrives, I have discovered some tips to help me get through the school year.
Create a master calendar. Mapping out your week before it starts will set you up for success. When you know what your week looks like you can plan around your extracurricular activities to find time to fit in everything you need to accomplish. There is nothing worse than missing your daughter's dance recital while you cheer your son on at his soccer practice. With just a little planning, you can find ways to split up your time.
Create a chore list. Having your entire family participating in helping around the house will not only benefit you with assistance, it will teach your children the importance of maintaining a home. Rotate cleaning tasks for each child. One can clean the bathroom while the other washes dishes after dinner. The structure of helping one another will teach children the importance of teamwork and the ability to accomplish tasks as a family. However, if you discover ways to help them complete chores without complaint, please let me know.
Have a designated study time. It is often recommended that study time should not take place directly after school. It is important to let kids unwind. It is easy to forget how hard their brains are working at school. After a snack and relaxing time, their brains will be powered and ready to study. Nothing like a good snack and a treat bribery to motivate minds to study harder.
Plan meals for the week. After a long day, the thought of cooking seems exhausting, let alone trying to plan out what to have for dinner. Creating a weekly meal list will eliminate half of your stress when you know exactly what you will be preparing for the day. Having your kids help plan your weekly menu also helps with eliminating complaints about what you choose for dinner that week. We enjoy spaghetti on Mondays, tacos on Tuesday, breakfast-for-dinner on Wednesdays, and pizza on Thursdays. As for the weekend, the family is on their own. Mom and dad are off the clock. Weekends are for spontaneity.
Plan outfits for the week and have them folded and ready. Getting kids ready in the morning is always a battle. Finding shoes, matching socks and outfits is time consuming and can be irritating. I have actually sent my son to his babysitter's house with no shoes. I have a strong feeling that if I did the same thing at school, it might be frowned upon. Picking out clothes and laying everything out lowers the morning chaos to a minimum.
The most important thing is to spend quality time with your family. Make memories and make sure you are creating a healthy environment so your kids will have the confidence to succeed in school. Days where all responsibilities are put aside are just as important as chores and structure.
Danielle Seideman of Lewiston is a hot mess mom of three who drinks way too much coffee. You can find her working on her computer, taking adventures in the mountains with her husband or having epic dance parties with her kids. She can be contacted at arts@inland360.com.