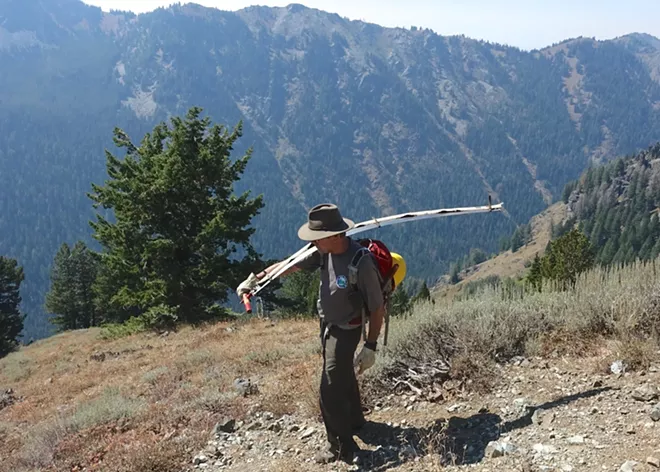 The Selway-Bitterroot Wilderness in Idaho and Montana is one of the largest designated wild areas in the United States.
Motorized equipment is illegal there, so are bicycles, wagons and hang gliders. You can't bury or burn trash. What you can do is revel in solitude, "where the earth and its community of life are untrammeled by man."
Those are words from the 1964 Wilderness Act which protects the Selway-Bitterroot and other U.S. wilderness systems. While wild is a natural state, it took a lot of work to keep it that way. In his new book "Working the Wilderness: Early Leaders for Wild Lands," John McCarthy tells the stories of four men and one woman who worked for the U.S. Forest Service and helped establish what it means to work and live in the wilderness: Emil and Penny Keck, William R. "Bud" Moore, William A. Worf and Warren Q. Miller.
"It's part of wilderness history that's not very well appreciated or understood," said McCarthy, 68, in a phone interview from his home in Boise.
McCarthy moved to Idaho in 1977 to work trail crew for the U.S. Forest Service. He began collecting these people's stories while working as a reporter at the Lewiston Tribune from 1982 to 1993. Later he worked for the Idaho Conservation League and other advocacy groups, but when he retired, he returned to these biographies. He believed a new generation could benefit from learning their stories and point of view.
"It is wilderness history, and the ideas are also part of our American character today," McCarthy said.
Their contributions are varied. Emil Keck, a logger in Orofino and Moscow, drew from logging traditions to build suspension bridges across the Selway River without chainsaws. Miller created a template for teaching people how to use pioneer tools that is still used by the U.S. Forest Service today. Others helped interpret how wilderness should differ from "those areas where man and his works dominate the landscape," as the act defines. This included the controversial idea that motors are not allowed.
"It's not just the smell or the noise. It's about being in the wilderness like the pioneers were, like the explorers were, using your head like they had to. You had to be self-sufficient," McCarthy said.
Among these leaders, the motto was "don't make it easy, don't make it fast, don't make it cheap" but people had to really think out what that meant and then advocate for it to spread the philosophy, he said.
"This was during the post-WWII timber boom. Just as people were trying to establish wilderness as being different, the Forest Service was building roads like crazy. The whole sense of timber was driving the Forest Service. Wilderness was not really well valued," McCarthy said.
"Now we have massive amounts of motorized recreation. People want to bring cycles into the wilderness and chainsaws. There's still that tension."
He believes the philosophy these people espoused and lived can help others understand the value of wilderness today.
IF YOU GO

WHO: John McCarthy, author of "Working the Wilderness: Early Leaders for Wild Lands"
WHEN:




7 p.m. Thursday, May 9, BookPeople Moscow, 521 Main St.




1 p.m. Saturday, May 11, Asotin County Library, 417 Sycamore St., Clarkston



COST: Free
OF NOTE: McCarthy will give a presentation about the book, read and sign copies.