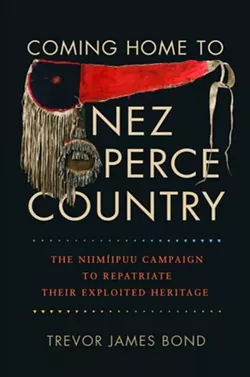 Readers can meet three local authors Saturday in Clarkston when the Washington State University Press brings its Author Day to bookstore And Books Too.

Authors Trevor Bond, Caryn Lawton and Brandon Schrand will be at the free event from 11 a.m. to 1 p.m. at 918 Sixth St.
"Coming Home to Nez Perce Country: The Niimiipuu Campaign to Repatriate Their Exploited Heritage"
Bond's book "Coming Home to Nez Perce Country: The Niimiipuu Campaign to Repatriate Their Exploited Heritage" draws on interviews with Nez Perce experts and archival research to tell the story of the Spalding-Allen Collection, according to a WSU Press news release. In 1847, missionary Henry Spalding shipped two barrels of "Indian curiosities," including Nez Perce shirts, dresses, baskets and horse regalia, to an Ohio friend. Given just six months in 1993, the tribe launched a grassroots campaign and raised $608,100 to reclaim the exploited cultural heritage.
"Butch T. Cougar: Mascot or Superhero?"
In Lawton's children's picture book, Butch, the beloved Washington State University Cougar mascot, just may be heroic. The author lays out the evidence and lets readers decide. Cougar fans of all ages will recognize nods to WSU favorites, such as Gardner Minshew and his mustache and Andy Grammer's song "Back Home."
"Psychiana Man: A Mail-Order Prophet, His Followers, and the Power of Belief in Hard Times".
Schrand's full-length biography of Psychiana creator and mass-marketing genius Frank Bruce Robinson, traces the rise and fall of Moscow's flamboyant false prophet during the Great Depression. The voices of his followers — from a desperate Dust Bowl farmer to a former heavyweight boxing champion — paint an intimate picture of the power of belief in hard times. Library Journal called the book a "bizarre, gripping, yet balanced account of a charismatic man and an enterprise that prospered under the guise of religion will appeal to true crime fans and those interested in religious cults."
More information is available by contacting And Books Too at (509) 758-3626 or WSU Press at (509) 335-7880.