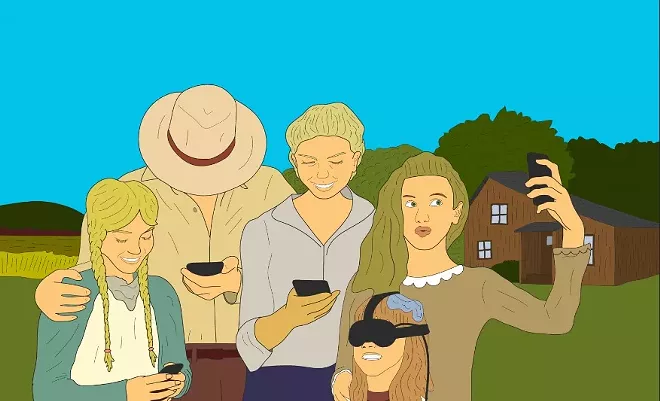 Those of us living in 1800s America know that life is full of tragedy, trials and tribulations.
While we can't control the weather, plagues of insects or mysterious diseases that we don't understand, we can control the apps on our smartphones.
Here are seven free apps designed especially for our era that are worth downloading.
WestWardHo — This travel app details well-known and off-the-beaten-path wagon roads and trails to Oregon. Includes real-time updates on typhoid fever, cholera and dysentery outbreaks; downed trees; wildfires; flooding; and washouts, so you can plan accordingly. Make every mile count!
MySnakeOil — Ratings and reviews for the most popular elixirs, tonics and nostrums being sold around the country by traveling salesmen. Search by patent medicine name or by common complaints, including melancholia, female trouble, scald head and weak nerves. First-person reviews and consumer ratings will help you decide if Currin's Wizard Oil really does heal every sore or if Joy's Cigarettes will cure junior's nasty cough.
VicsnVitts — When you must prepare a meal for 12, and the only thing left in the cupboard is a shriveled potato and a cup of flour, VicsnVitts (short for Victuals and Vittles) offers simple tips for stretching your remaining provisions. All you need is this app and water to keep hunger at bay.
Candlepwr — Tracks the life left in your candles and kerosene lamps so you're never left in the dark. Includes the ability to share your candle power status with others so they'll know when you're literally burning the midnight oil.
CElephants — A listing of church tent revivals, freak shows, circuses, vaudeville acts, soirees, pie socials, quilting bees and traveling medicine shows nearest your location. No need to sit in your cabin with the wind as your only companion with this app as your go-to source for the latest entertainment information.
LLL — If you're not a northern European or Protestant immigrant, you know daily life includes an additional layer of judgment and personal danger. LLL (which stands for Live and Let Live) updates you with the latest information on exclusion acts and discriminatory policies, special taxes, sunset towns and shifting treaties so you can maintain your rights and way of life in the face of persistent racism and discrimination.
GoinCourtin — When tragedy strikes and you've lost yet another wife to childbirth or husband to disaster, GoaCourtin searches for a new spouse for you so you can focus on what really matters, surviving. Listings are created by well-meaning relatives and neighbors and are broken down into the following categories: well-to-do bachelors, spinsters, recently widowed and girls whose parents or guardians have deemed them old enough for marriage.