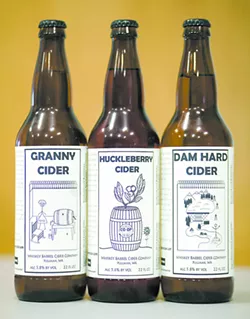 Beer may be the reigning alcoholic beverage in America but it wasn't always so. Before the mid-1800s one of the most common drinks was cider.
Today many Americans think of cider as fresh, unfiltered apple juice you drink hot, but their forefathers (and modern Europeans) would know it as the bubbly alcoholic beverage we've come to call hard cider.
Apples were among the first fruits American settlers planted in North America, where the only native apple was the crab apple. They also brought the age-old practice of fermenting apple juice into cider. John Adams, George Washington and Thomas Jefferson grew apple orchards and fermented their own ciders, like many rural farmers. Children often drank it for breakfast and dinner. The mildly alcoholic drink was inhospitable to disease-causing bacteria sometimes found in local water supplies. In 1840 cider played into the election of President William Harrison, who associated himself with the common man's "log cabin and hard cider."
Cider's quick decline started around the 1830s with the Temperance movement that advocated moderation and then prohibition of alcohol. With the rise of the industrial revolution people moved to cities and left their orchards behind. German immigrants imported their beer-brewing techniques and beer proved faster and easier to make in the growing urban areas. By the time Prohibition was instituted, cider's pulse barely registered.