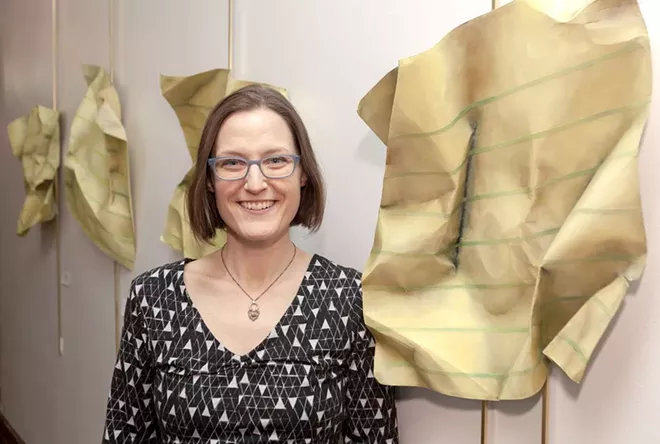 By Annabelle Ady
For Inland360
"Dear Moscow," the City of Moscow Arts Department's latest exhibit, features 61 illustrated letters from community members and university students expressing their gratitude for Moscow.
The art was mailed to the department and celebrates the 110th anniversary of Moscow City Hall's construction and its history as a post office.
In a normal year, the exhibit would open with a reception in city hall's Third Street Gallery. Instead, it's being promoted online because of the pandemic. Megan Cherry, arts program manager, spoke with Inland 360 about the gallery and plans for 2021.
Who came up with the idea for the exhibit? Can you describe how you put this exhibit together?
Cherry: All exhibitions at the Third Street Gallery are developed in collaboration between city arts staff and members of the Moscow Arts Commission. We've been planning this exhibition for over two years in anticipation of the 110th anniversary of city hall's construction. It seemed like a great time to host a mail art show, since the building was formerly used as a post office. As it turned out, the timing worked out perfectly because, with all the challenges of 2020, everyone was looking for a way to connect from a safe distance. Mail is the perfect medium for the moment.
How many entries did you receive for this exhibit?
Cherry: We opened the call for participation to the entire community and had 61 pieces of mail come in for display. It's one of the biggest artist rosters we've had for any of our shows here, which just shows how eager people are to put energy toward something positive. Moscow's creative people are absolutely the best at showing up to participate in community projects like this.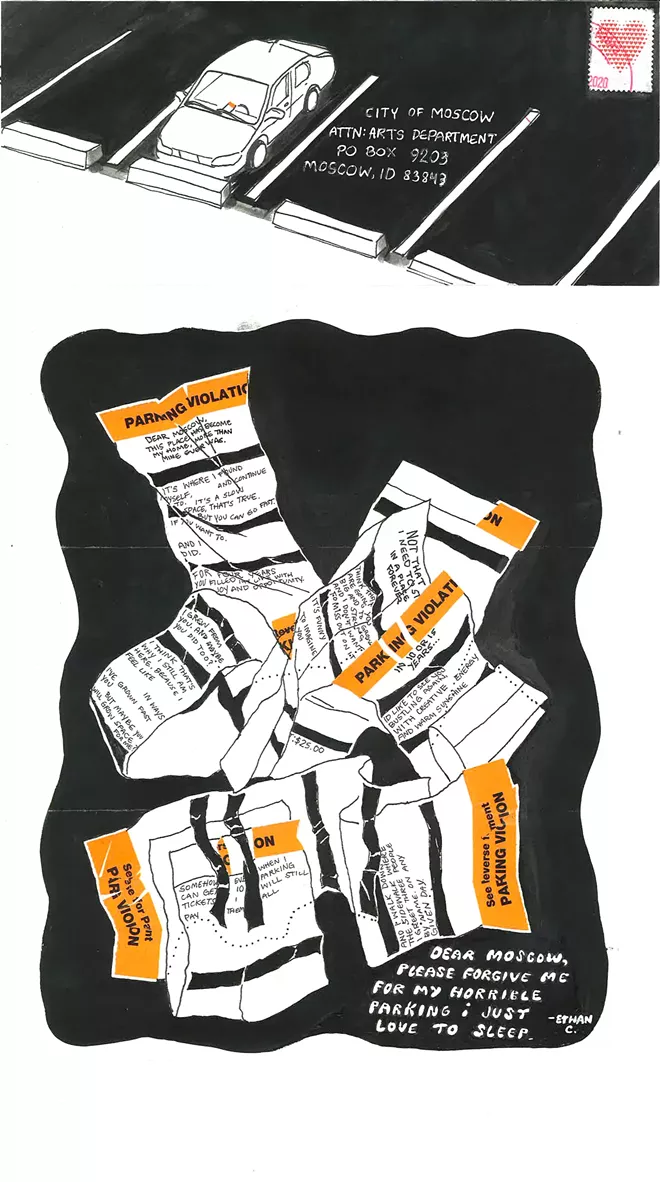 Can you describe some of your favorite entries for this exhibit?
Cherry: Well, I'm pretty terrible at choosing favorites, because they're all my favorite. I really appreciated the time and coordination that went into the submissions from classroom and family groups. One family even got their cat involved, so there's a feline submission in the mix. I love kid art, particularly when it contains loopy, imaginative drawings and intuitive spelling. It just makes my heart happy. I love seeing artwork by adults who obviously let themselves get lost in the joy of gestural marks or exquisitely obsessive processes. What a great release from the stresses of the year.
Overall, I think my favorite part of this show is the incredible range of artworks and artists. There are pieces made by fourth-grade students and pieces made by people with MFAs and tenure-track teaching jobs. Usually, we don't get to see those people's work hang together – it gets sequestered in age-related or professional categories. I like seeing all of it together – kids, teachers, adults, parents, grandparents, freshly-minted BFAs and MFAs – everyone's in there together, which is really a perfect portrait of Moscow's creative community.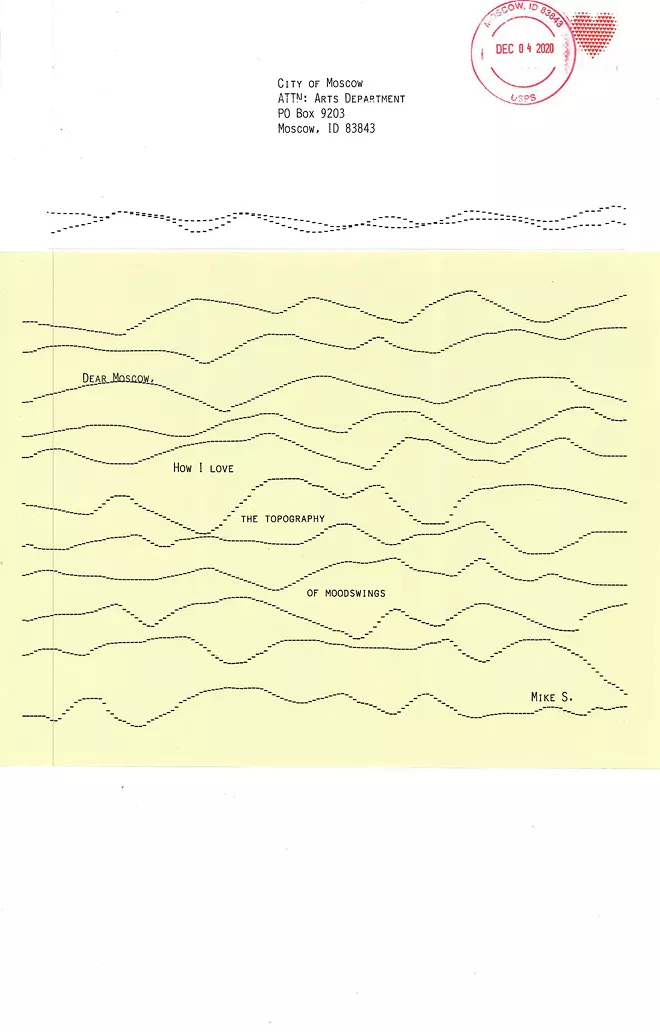 What was your favorite part of putting together this exhibit?
Cherry: I'm just happy to be hosting exhibitions at all (after 2020). This one is pretty great because we were able to put it up in city hall as well as having an online gallery. On a personal note, I absolutely love mail, and this show has offered all the pleasures of stamps, envelopes and paper. It's the perfect intersection of nerdy and sweet.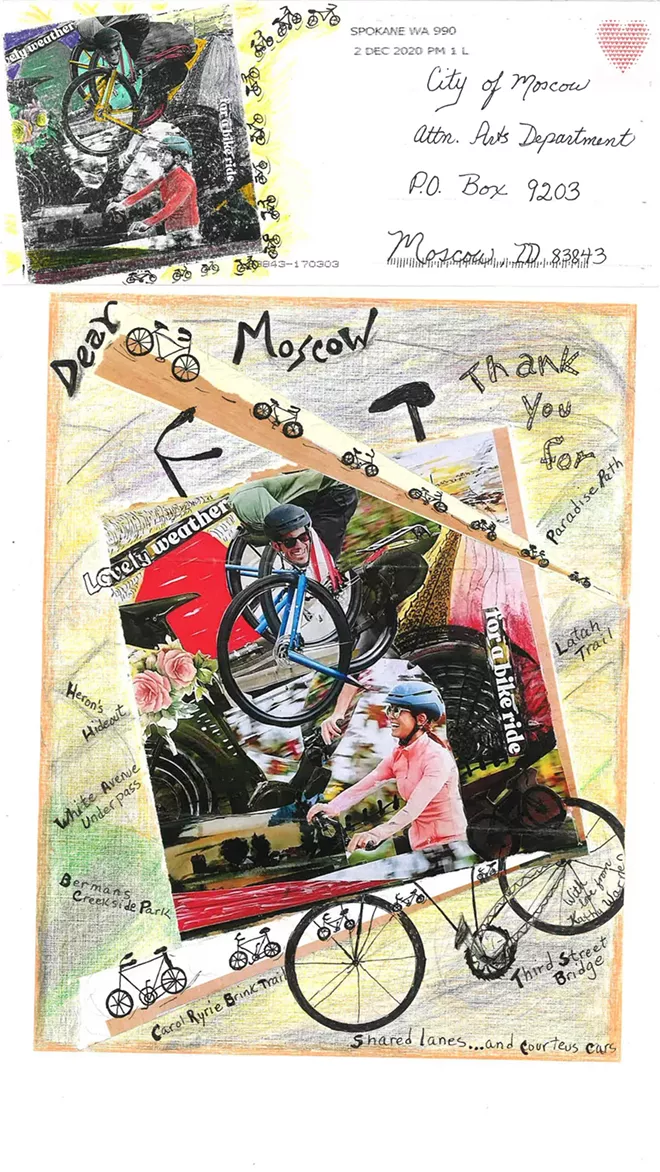 What are your upcoming plans for the gallery?
Cherry: Our next exhibition will be "Silver and Gold," which will feature works made by alumni from the University of Idaho Art and Design program. We were planning to host the show last year but it was set for what turned out to be the early days of the pandemic, so we adjusted our plans. We've got it back on the docket for 2021, this time with an online gallery feature as well as an exhibition in the physical gallery.
If you visit
"Dear Moscow" can be viewed online through March 5 at www.bit.ly/dearmoscowgallery.