By Michelle Schmidt Inland360.com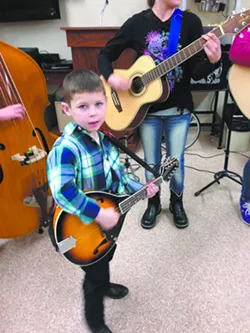 Their sound is like any other bluegrass band: a plodding bass holds up strumming guitars, while a fiddle sings out above it all. But when you hear the howl of the hound dog in the middle of the song, you'll know it's no grown-up belting out the tune.
Max Hunt turns 6 next week. He appears entirely comfortable sitting in front of a microphone with his mandolin. When he gets to his part in the song where he howls, you can tell he's been waiting — maybe for the whole verse, or maybe the whole day — to let it out.
Hunt's unbridled enthusiasm would make anyone smile. But he — along with his older and female bandmates — aren't just cute. They've got legitimate bluegrass skills and an impressive sound for such a young group, especially one that's only been together for two months and began with a couple of its members having no music skills or experience.
The band Silverstone is the product of bluegrass culture. When adults come together to jam, their kids come with them. And sometimes even the kids' kids. Eventually everyone picks up a little bluegrass something, whether a full-blown musical skill or just a lifelong attachment to the style. Silverstone is led and taught by LouAnn Carter, who also plays guitar and fills out vocal harmonies. Three of the members are her grandkids: AnnMarie Hall, 12, on guitar; Alaina Hall, 10, on bass; and then Hunt, who shows off his 2-month-old skills on the mandolin. Two additional members — Cassidy Arnot, 10, on fiddle and Ashleigh Yung-Perez, 12, on guitar — round out the group.
The group meets once a week to learn and practice songs. In addition to Hunt, Yung-Perez is a bluegrass newbie. A friend of AnnMarie, she joined the band because she'd always wanted to play guitar and it seemed like the perfect chance to learn. It seems to be working.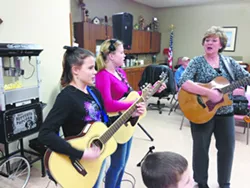 The group isn't the result of the Bluegrass Sprouts workshops (see related story), but they're proof of how quickly kids can pick skills up with regular practice. At their second-ever performance at Royal Plaza this past Monday, those in attendance weren't just listening to be polite. Arnot, whose vibrant red hair seems a perfect match for her bold fiddle, plays a clear, bluegrass sound. She started taking classical violin lessons four years ago, and while she enjoys both music styles, she has a slight preference for the bluegrass at this point.
"It's more fun, more upbeat, it's faster," Arnot said.
AnnMarie brings five years of music experience to the group. She learned guitar from her grandmother, and her high, airy vocals add an elegance to the band's sound. Her sister, Alaina, holds her own on the upright bass, even though it towers a good foot or more above her.
The group will be joining the Valley Bluegrass Stage this weekend, along with other area bluegrass bands Mill Town, Bear Grass, Forgotten Freight, Buffalo Hump Syndicate and Wanigan.
(Max Hunt is the son of Lisa Hunt of Lewiston; AnnMarie Hall and Alaina Hall are the daughters of Lisa Hunt and Justin Hall of Clarkston; Cassidy Arnot is the daughter of Michelle Aucutt of Clarkston and Mark Arnot of Lewiston; and Ashleigh Yung-Perez is the daughter of Lacy and David Turnage of Lewiston and Nic Perez of Boise.)
if you go: What: Valley Bluegrass Stage featuring Silverstone, Mill Town, Bear Grass, Forgotten Freight, Buffalo Hump Syndicate and Wanigan When: 7 p.m. Saturday, Jan. 11 Where: Clarkston High School Auditorium, 401 Chestnut St. in Clarkston Cost: $5/adults, free/children 13 and younger