Jose Murillo likes to dance, laugh and take his grandchildren to Costco for hot dogs.
He tells people no one ever leaves his house hungry, and they don't. He loves the New England Patriots, and when the team plays on TV, he stands in his living room and sings the "Star Spangled Banner" with the crowd. He's proud of his country — both of them.
Murillo, 73, came to America from Mexico 40 years ago to build a different life for himself and his family.
But many Americans don't want to see who Jose Murillo is; they see only what they perceive him to be -- a Mexican.
Countless times he's been told, "Go back to where you came from." So have his children; so have his American-born grandchildren. In the longtime Lewiston family's experience, the racism and prejudice has only escalated since the 2016 election of Donald Trump, whose campaign included numerous insulting comments about Mexicans.
"It's tolerated now," says Murillo's daughter, Monica Powell, 45, of Lewiston. "Now it's like, well, make America great. Back then (before the election) you could defend yourself, but now to defend yourself is un-American. The dynamic has definitely changed. … People will say to me, 'I would never send my kids to cross thousands of miles.' Well, let's hope you never have to. Maybe it's the lesser of two evils."
Life in Mexico
Jose recalls an old white man in line with him at the bank asking where he was from. When he told him Mexico, the man said, "Why don't you go back to your country." It wasn't a question.
"My answer was bad," Jose says with a smile. "I said why don't you go back to your country? This is my country. I was born in North America. From the bottom of Mexico to the top of Canada is North America."
Descended from Spanish immigrants, Jose was raised in Mexico City, where he attended school until the sixth grade. His school days ended when teachers told his parents they must pay before they would pass him to the next level, he says.
"Most of my learning was outside of school. I thought, I don't need to go to school to learn. I was learning more from life. At school I learned how the teacher preferred the rich kids who gave them an apple and money. Corruption, corruption, corruption, all through my whole life."
He went to work. "I was never afraid to work," he says.
He rode a bike through the streets of Mexico City, selling milk. At night, he read books to educate himself. He got a job as an auditor for the government and eventually was named a judge in the city of Pedro Escobedo by the local mayor. He was one of the only people in town who knew how to read and write, and he'd studied the laws and knew them better than anyone else, he says.
He got married, and he and his wife, Paula Garcia, were raising several children when corruption came calling in his courtroom.
Jose sentenced a woman to prison for murdering a pregnant woman. The murderer's husband had impregnated the victim. The day after the sentencing, some people came to his office with a threat: "She better come out or some of your kids aren't going to be alive tomorrow," he remembers.
He told them no. That night he wrote a letter to the federal authorities telling them the situation, that the mayor of the town couldn't be trusted and that as the judge he was the only person with the authority to free her, and he was leaving. Then he and his family fled into the mountains with only their clothes. A friend who was building pig pens in the area allowed them to live in them.
"It was the only place I could hide," Murillo says.
They lived in the outdoor pens for three months, cooking on a stone with wood fires. He remembers spending Christmas Eve lying in a pile with his family with no blankets, no roof, no walls. One of the children was a newborn. "It was cold, but not as cold as it is here," he says.
He worked as a painter to make money, but since it was winter, jobs were scarce. He feared for the safety of his young wife and daughters.
"Those guys are bad, and they can do anything to get the women. I was afraid to leave them. Sometimes I have to take them all with me to paint to make money."
After three months, he'd saved enough to buy bus fare for his family to travel to the town where his wife was born. They moved in with his mother-in-law, and he got a job painting the town's central plaza, which led to one of the proudest moments of his life. He hired workers away from other painters by promising to pay them triple the amount they were making, he says. This inspired a man to write a ballad about his life, which he sang in the town square to let the community know what kind of man Jose was.
In 1978, Murillo's sister, Maria, came to visit him with her husband, Bryan Oglesby. Maria and Bryan met when he visited Mexico as a tourist and encountered her selling trinkets at the border. They'd married in 1975 and lived in his hometown of Lewiston. She saw her brother's family living together in one room and suggested he come to visit her.
"Visit you? I can't afford to visit you. I can barely afford to feed my kids," he answered.
She explained he could come to the border town of Nogales, Ariz., as a visitor, and they would meet him and take him to Lewiston. He decided to go in order to work and send money back to his family.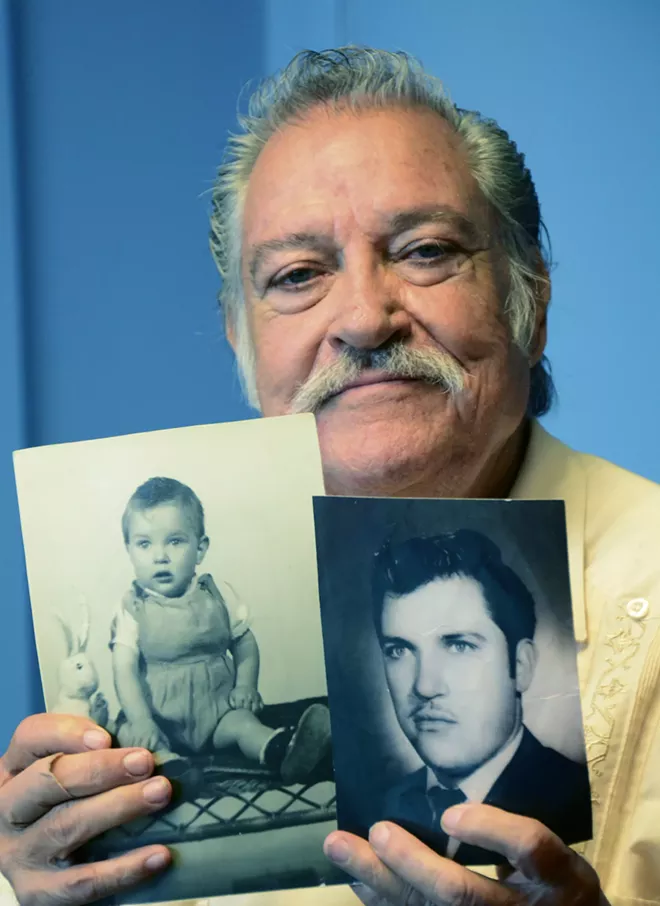 Coming to Lewiston
The first hurdle Jose encountered was not knowing English in a town where no one knew Spanish. He picked it up by listening to people talk. He also learned to roof houses by watching people work. Roofing became his trade. With pride, he says he was known for his speed, clean work and good prices.
"No break time, no coffee time. I'm not one of those people. I just go to work and work and work until I was done," he says. "When quitting time came, I was sad to stop making money. When I go to bed, I was wasting 6 ½ hours sleeping."
For two years, he sent money back to his wife and eight children. He did not know that a brother-in-law in Mexico, who was living in the same house as his wife, was taking all the money for himself.
"I remember my mom being so depressed, crying all the time. She thought he just left us," recalls his son Hector, 46, of Lewiston.
A car accident changed all their lives. In 1980, Jose was driving down 21st Street when his car left the road. He nearly died. When he woke up in the hospital it was daytime, but the sky outside was black as night. He didn't know it, but Mount St. Helens had erupted. Gazing at the apocalyptic sky, his thoughts went to his family and who would care for them. With the encouragement and help of his sister's husband, Bryan, he decided to bring them to Lewiston, he says.
They didn't jump a fence or swim a river. They crossed at the border, where people were free to go a certain distance for business or shopping.
"We were only supposed to go 25 miles, but we kept coming," Jose says.
Life in Lewiston
Hector was 7 when he arrived in Lewiston, and his first memory is of food.
"There was food everywhere. None of us could believe how much food there was," he says.
The family lived in a one-bedroom basement apartment by the hospital. One night a week, each child got to sleep on the couch by him or herself.
"That was the coolest day," Hector remembers.
The children were split up and sent to school at McSorley and Webster elementaries. Monica was 6, and she and her 13-year-old sister were put in the same class to learn English. She remembers kids making fun of their clothes and teasing them with taunts of "taco," "burrito." They asked her how to say foul words in Spanish, words she didn't know. She doesn't remember there being any other Mexican children at school. Even if you wanted to hide what you were, you couldn't.
"The college in town made things easier, seeing people of other races," she says.
The family also felt accepted by the Nez Perce people, she says.
Hector remembers how their mother packed them a lunch before school each day, mixing powdered milk and water in glass baby food jars for them to drink. Each child also had a portion of beans.
"Dad was too honorable for free lunch," he says. "For some reason, the school had a problem with it. I think it had to do with food safety. I remember a teacher grabbing my milk and looking at it and throwing it in the garbage. I thought, 'my mom made that.' Things like that, we just didn't understand how things were. After that, (the school) signed us up for free lunch. My dad never signed up for it."
Jose was hypervigilant about the family being perceived as takers, which in his experience is how many Americans perceive Mexicans.
"When we got here, he was always paranoid about people, how they looked at us," Hector says.
Every time they went to the store, Jose reminded the children to keep their hands away from their pockets, because someone might think they were stealing something.
"I walk all over Albertsons, those cameras never worry about me, because they know me for 40 years," Jose says.
Unable to roof for a time after the accident, Jose took a job as a cook at a Mexican restaurant run by Americans, walking to the restaurant in Clarkston with a cane. He packed seed in Pomeroy and worked at a bullet factory. Two more children were born. By 1982, he had saved $2,000, enough for a down payment on a house that a friend had found for him on Normal Hill. He didn't tell anyone. He wanted to surprise his family, he says.
They were to move in on Jan. 18, his wife's birthday. That day he told her they had a house cleaning job and that, even though it was her birthday, they must go because they needed the money. Once they were inside, his wife said the house was big but it was already clean. He told her it was her house, happy birthday.
"She said, 'No, don't treat me that way. You can't afford to buy a house,' " he remembers.
But it was true. His friend explained it would take him 30 years to pay off the mortgage. He paid it off in 12.
"Not 30, not 15 — 12, working two, three jobs. Sometimes I don't have to sleep. That's how I take care of 10 kids."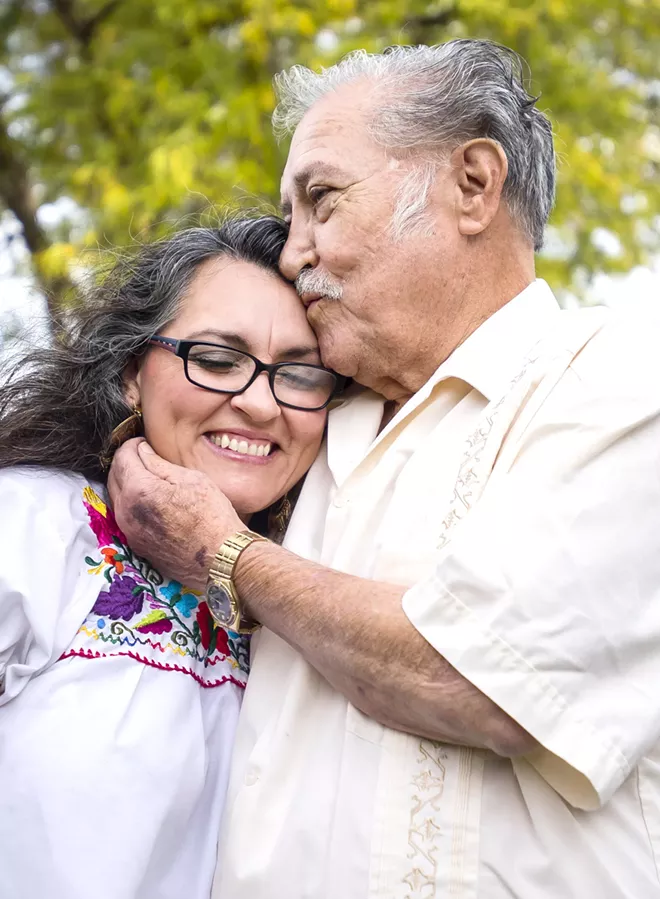 Life since 2016
When Trump was elected president in 2016, the Murillo family could only think of his speeches against Mexicans on the campaign trail, including the comment, "They're bringing drugs. They're bringing crime. They're rapists," he made at his first press conference as a presidential candidate in 2015.
The rhetoric has continued throughout his presidency. Last year, Trump said some undocumented immigrants "aren't people, they're animals."
Jose tears up when he talks about it. After decades of sacrificing time with his family and doing anything he could to prove he is an honorable person, the country elected someone who reinforces stereotypes and hatred.
"The fact that he got elected after that, to me it just feels like the prejudice has come out of the woodwork. I've noticed people think it's OK," Hector says. "There's a lot of good people too, but even some good people went astray, I think. Before, I never felt like that. We were labeled. Once you're labeled, you always feel like a victim."
While shopping at Winco recently, Monica was speaking in Spanish to her father, a sign of respect in their family. A stranger asked her if she was a U.S. citizen. The question has become more and more frequent in the last year and a half, she says, and it's offensive.
"Why ask that? Are you going to call ICE?" She says, referring to U.S. Immigrations and Customs Enforcement.
"Freedom of speech applies to nationality," she says. Speaking in her native tongue doesn't make her less American.
"People think we don't want to become citizens because we're not American enough, but that's not it. Ask them. Get to know that person," she says.
While she and other members of her family have become U.S. citizens, others have not, for various reasons, and live in the country under other legal statuses. One reality is that becoming a citizen is cost-prohibitive for many immigrants, including the average migrant worker, she says.
The perception that Mexicans come to the U.S. to "take, take, take" from social services, stems from a lack of education about how the system works, she says. "They really can't. You can't get services without a Social Security number."
She decided to become a citizen in 2008 because her American husband was worried that if he died and U.S. policy changed, she could be deported, and then what would become of their children? The process took her 1 ½ years and cost $2,500.
"It's not cheap. Your average migrant worker cannot afford that," Monica says.
However, from her experience, the real issue isn't nationality, it's skin color.
"People coming from Ireland, I guarantee you, nine times out of 10 they'll get more respect. People just don't like brown people."
Her grown daughters, born in the U.S. to a white, Jewish father, have been told to go back to their country. They are proud and protective of their heritage and both have T-shirts with the slogan "Daughter of an immigrant."
"They almost can't wear it," Monica says.
In the current climate it is harder and harder for them to defend who they are, Monica says.
"Saying you're proud to be an American — you can, because you're white," she says to the white reporter writing this story. If she complains about the current political climate, people tell her to go back to Mexico if she doesn't like the way things are here.
"You don't have to like the fact that people are seeking asylum," she says. "It's OK to want to fix it. That doesn't make me less American."
Hector, who has permanent resident status, agrees.
"It's to the degree it's kind of scary. If he gets re-elected is he going to kick us all out? I just got brought here. This is all I know. This is all we know. My kids are here."
Jose became a citizen in the late 1980s.
"I don't regret anything. I don't regret that I came here," he says. "I came to this country to prosper."
In his mind there are two kinds of people, givers and takers, and which one you are doesn't have anything to do with your skin color, the language you speak or where on Earth you were born.
"Takers eat better, but the givers sleep better. I'd rather be sleeping better than the other way," Jose says.
Correction: This story was updated at 10:40 11/7 to reflect that the "Star Spangled Banner" proceeds football games, not the Pledge of Allegiance.
Clarification: A link to Trump's quote calling immigrants "animals" was updated at 2:30 p.m. 11/8 to send readers to an NPR story with a more detailed explanation of the context of his remarks.