A photograph is only part of the picture.
Garth Amundson and Pierre Gour work off this reality, as they alter historical photos in ways that hint at untold stories of queer culture. Their own story, as a couple and as artist collaborators, began in 1986 where they met at an artist residency at The Banff Center, in Alberta, Canada. In the years since, they've focused on collaborative work and teach as tenured faculty in the art department at Western Washington University in Bellingham, Wash.
In many ways, Amundson said, "Whipping It Up," now on exhibit at the Prichard Art Gallery in Moscow, is a retrospective of their work which is rarely shown together. Much of their work relies on historical photos that they have collected, either from their own past or someone else's that they find while antiquing and thrifting.
"They're records, but they have a hidden history," Amundson explained.
The actual histories of those in the images are unknown, but through their artistic process, Amundson and Gour infuse the images with possible histories that often hint at their own. By removing parts of the photo or changing the context, their work addresses notions of masculinity and the relationships that might have existed in secret.
"Historically, homosexuality hasn't been documented that well because it wasn't accepted," Amundson said.
In one collection in the exhibit, "Mr. & Mr./Mrs. & Mrs.," two portraits are coupled together into a single right-side-up/upside-down image, much like a playing card. The collection playfully addresses the "fluidity of gender assignment," Amundson said, and explores both power structures and relationships.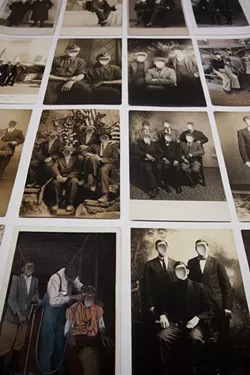 In "Penetrating Cuts/Cut-It-Out," faces from historical photographs are removed, creating images that are reminiscent of the painted boards seen at carnivals and tourist locations where individuals place their own faces where the cut-outs have been made. The missing facial identity explores role assignments and personal stories and identities.
For "HEAD(s)," developed in conjunction with that work, Amundson and Gour amassed a collection of displaced faces that had been cut from context. The heads are pinned onto a white background, mimicking a scientific collection. The installation explores how knowledge is presented and, because installation is left up to the gallery, "every time it's installed, it's new," Amundson said.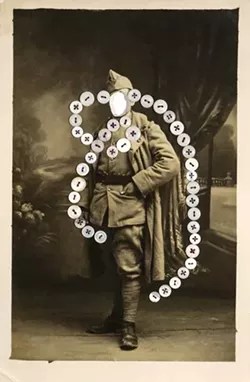 Another collection, "Button Prints," was created at the Rockefeller Foundation Bellagio Center in Italy, where the couple were awarded a residency. There, people from diverse professions and walks of life came together to interact and learn. While "being spoiled for a month," Amundson said, he and Gour began a sewing circle, where they invited interaction by providing photographs and buttons for people to sew on to the images. The images in the show are the result.
The work is intended to engage curiosity and, as the title suggests, stir things up at bit.
"I hope our work is challenging and provocative -- that's what we make it for," Amundson said.
IF YOU GO:
WHAT: "Whipping It Up: A Collaborative Alchemy" featuring the work of Garth Amundson and Pierre Gour
WHERE: Prichard Art Gallery, 414 S. Main St., Moscow
WHEN: An artist lecture will be offered at 5:30 p.m. today, Aug. 23 in TLC 040 at the University of Idaho. An opening reception will be 5 to 7 p.m. Friday, Aug. 24 at the gallery.
COST: Free
GALLERY HOURS: 10 a.m. to 8 p.m. Tuesday through Saturday and 10 a.m. to 6 p.m. Sunday, now through Oct. 6