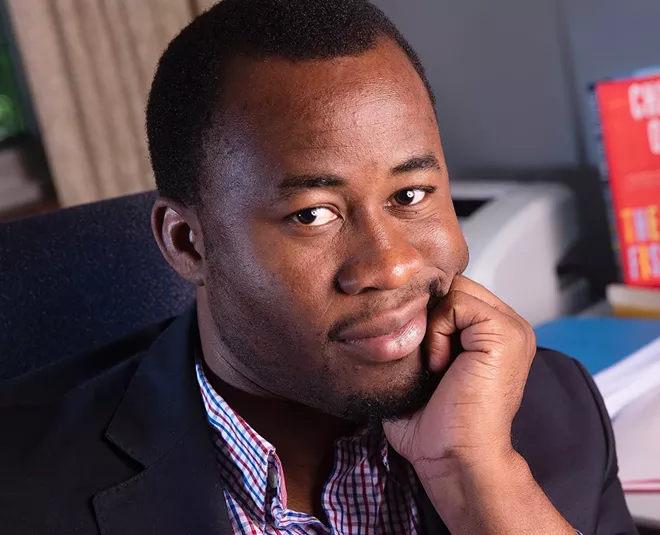 By Riley Haun
For Inland 360
Chigozie Obioma feels safe in saying his college experience was a unique one.
The 35-year-old author took an inauspicious first step on the path to a degree. Shortly after starting at a university in his home country of Nigeria, he faced the threat of expulsion.
Obioma, a voracious reader since childhood, knew in his soul he wanted to be a writer. For him, and for countless other young Nigerians, the best route to a career in the Western world was a college education. Frequently, that meant leaving Africa for universities in the Republic of Cyprus, where they were promised cheap tuition, plentiful jobs and easy access to the rest of the European Union.
For Obioma, the far-flung Mediterranean isle had the added benefit of anonymity. No one there would know the history of outspoken activism that led him to leave school in Nigeria. He arrived only to find the fabled jobs were nonexistent and the country was closed off from the rest of Europe in terms of immigration.
Thankfully, his family was well-off enough to pay his tuition directly in Cyprus, avoiding the middlemen who frequently extort Nigerian students for thousands of dollars to get places in a Cyprean university. Having avoided the first great hurdle that befell many African immigrants to the island, Obioma did well in Cyprus before moving onto bigger things.
He went on to a writing fellowship at the University of Michigan in Ann Arbor, where he completed his debut novel, 2015's "The Fishermen." He now teaches creative writing at the University of Nebraska-Lincoln, and his two published novels both have been finalists for the Booker Prize.
On Feb. 10, Obioma will read from his work and answer audience questions as part of Washington State University's Visiting Writers Series (details at end).
Obioma knows his college experience likely is far removed from that of his students in Nebraska, or the audience for his presentation at WSU. Despite differences, though, he believes the themes in his work often are more universal than meets the eye.
His most recent novel, "An Orchestra of Minorities," draws heavily from the author's experiences and those he witnessed as a student in Cyprus. The protagonist, Chinonso, leaves his solitary existence as a chicken farmer in Nigeria to earn a degree in Cyprus and earn enough money to marry his true love. Unlike Obioma, he falls into the middlemen's trap.
From the novel's opening, Chinonso's world is foreign to a typical American reader. Even the most basic framework of the story is unfamiliar — the novel is narrated by Chinonso's "chi," a personal god or spirit central to the Igbo mythology Obioma grew up with. That unfamiliar choice was a deliberate one on Obioma's part.
"There are plenty of novels that probe into the Judeo-Christian ideas of spirituality and cosmology, exploring the world from that framework, which is supremely Western," Obioma said. "I felt there was a gap in African literature for that kind of tale, and it had to be done by someone."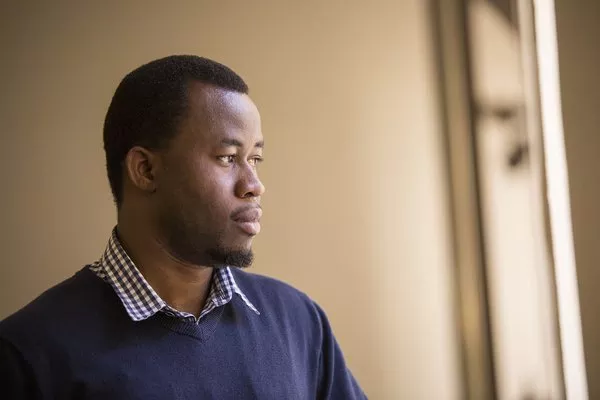 The task of weaving an entire cosmology into one novel was a daunting one. Obioma first toyed with the idea of setting Chinonso's story in pre-colonial Nigeria, before traditional Igbo beliefs came into contact with Western ones. But those ancient beliefs still exist in modern Nigeria, Obioma said, and he wanted to avoid giving the impression that the old ways existed solely in the past. Rather, he said, they prevail despite the apparent dominance of Christianity and colonialism.
Despite the yawning gaps between his characters and the average American college student, Obioma thinks Chinonso's plight is widely relatable. The quest for upward mobility, Obioma said, is shared among Americans and Africans alike, as are many obstacles — such as racism — that Chinonso encounters during his quest.
There's often a pressure in literary circles to discuss hot topics like racism, immigration or poverty from an American perspective, Obioma said. Since arriving here, he's encountered a "shocking" level of insularity in which America thinks of itself as its own world. But the pains, joys and rituals of life are shared among all people and Obioma feels his work contains them all. If you cannot feel Chinonso's cold panic upon his arrival in Cyprus, maybe you can empathize with the crushing emptiness he feels upon his father's death; perhaps you can share his warm glow of contentment as his girlfriend's car pulls into his driveway.
"I do think these things are more universal than most people think," Obioma said.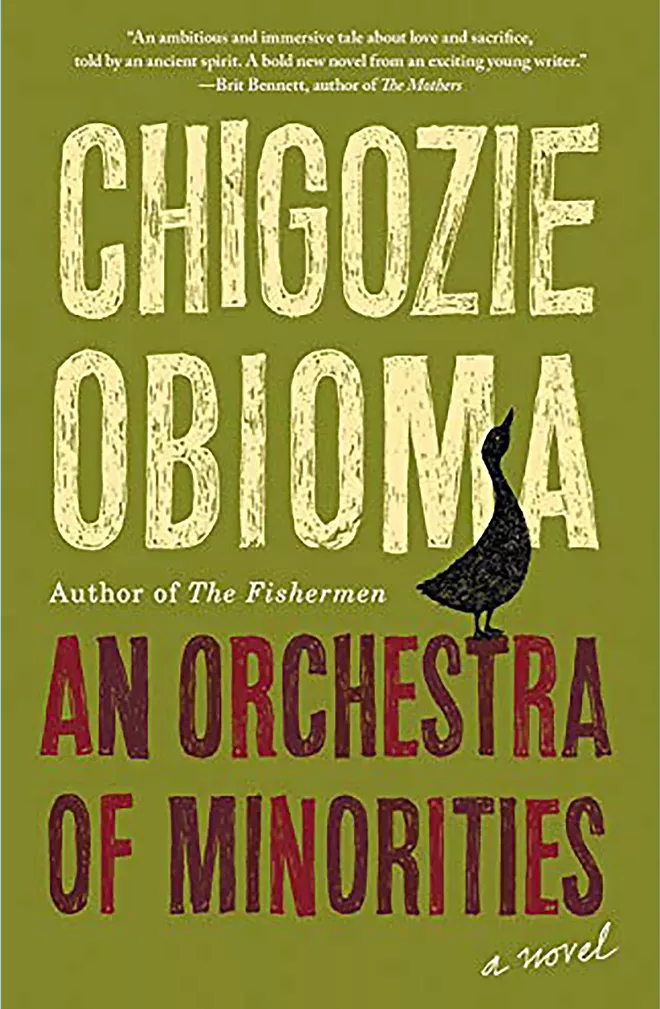 But as the national conversation about institutional racism in the U.S. rages on, Obioma thinks the alternative vision of injustice presented in his novel offers a valuable glimpse outside the American bubble. Chinonso's struggles in a racist society are different from the struggles of Black Americans, but Obioma is quick to point out that America is not the only country reckoning with its racism.
"The racism I experienced as an African in a place like Cyprus is far harsher," Obioma said. "What you would see as a Black person is far more disturbing there than what you would see in Alabama."
Obioma recalled struggling to learn Turkish when he first arrived in Cyprus. Once he began to grasp the language, he could hear the insults locals spat at him as he sat on the bus or walked down the street. The revelation shook him so badly that he attempted to "unlearn" the language — there was safety in ignorance, Obioma said.
"I won't pretend that in America — despite my life in relative comfort and my good job as a professor — that I haven't experienced systemic racism or microaggressions, but it was not as open and hateful as it was there," Obioma said. "In America, racism walks underneath the surface."
Perhaps the most universal theme in his work, Obioma believes, is the language he chooses. The sentiments painted in his prose conjure the same feelings and memories regardless of what language they are translated into, Obioma said, creating another platform on which readers can engage and empathize with the disparate stories of his characters.
That gift for language began in his childhood, when Obioma said he devoured the classical literature in his father's collection "as if my life depended upon it." But then, he had no metric for what made great fiction; now, he's more keenly aware of what makes a universally beloved work. He's a judge for the 2021 Booker Prize, and is in the process of sorting through more than 150 books to determine the winner.
"Having read all this, I go back to the possibility of language to draw a full picture of the world — not just a full picture, but a profound one," Obioma said. "I want the language to draw out the interior aspects of a character's life. What can fiction teach you that you don't already know?"
There is a great injustice in the world of fiction today, as Obioma often tells his students. There are only so many words one can combine endlessly to draw the same pictures. A sentence written by Shakespeare in the 16th century was revolutionary; today, should an up-and-coming author use the same combination of words, it would be utterly unremarkable.
So, Obioma said, the only way to create memorable fiction is to have the drive, the desire, to plumb the very depths of the language for the words to create an image only an individual possesses.
"I have learned to read in a way that words stick with me. It's what I've dedicated my life to doing, because I always wanted to do this thing of writing," Obioma said. "The writers who become canonized don't just want to tell a story, they want to do something more. And I think that's what makes the difference."
IF YOU GO
WHO: Author Chigozie Obioma reading and Q&A session.
WHEN: 7 p.m. Wednesday, Feb. 10.
WHERE: Visiting Writers Series WSU YouTube channel, www.bit.ly/360Obioma.
COST: Free; no preregistration required.