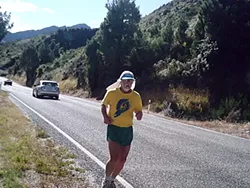 At age 65 Keith Jenkerson might be considered a superman among seniors. Others may cruise the world but he is running around it.
Jenkerson and his wife Joan are seeing the planet by foot. They fly to a starting point, buy a car they can camp in, and then one person drives while the other runs six miles. Then they switch.
They crossed more than 3,000 miles in 1998 when they ran from Huntington Beach, Calif., to New York. They faced temperatures above 100 degrees in the Mojave Desert and below zero in the Colorado Rockies where they dodged snowplows. Recently they spent two months running around New Zealand.
Jenkerson will compete in next week's Lewis-Clark Senior Games in the Lewiston-Clarkston Valley. Last year he won three gold medals in the 5K run, long jump and 60-meter sprint. Before this year's games the native of South Africa chatted with 360 about running, traveling and aging.
When did you start exercising?
Coming from a country like South Africa you are fortunate to be thrust into contact sports at a very early age as this is a sport-mad country. I represented our Eastern Province in soccer for several years. After soccer I went into martial arts ... judo and self-defense.
How old were you when you ran your first ultramarathon?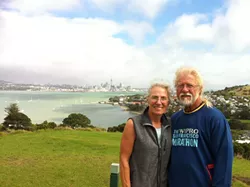 Around 30. My brother introduced me to long-distance running and after several years I was lucky enough to run countless marathons, ultramarathons — 30 miles, 60 miles and 100 miles — and charity runs. Joan became my running partner and our first adventure was a 600-mile run in South Africa which I ran and she drove the support vehicle.
What are some memorable runs?
I did a solo run across South Africa, a 1,200-mile run which took me 39 days dragging my cart and sleeping anywhere away from dangerous people and animals and sometimes spending the night in culverts under the road. Our next adventure was a seven-month trip to Australia where we ran 3,000 miles through part of the Nullarbor Plain outback with kangaroos keeping pace at a safe distance. After crossing from west to east we took a boat trip across the Tasman Sea to Tasmania where we ran around the complete island.
Why run these incredible distances?
Beside the benefit of being healthy and fit we get to see the most beautiful countries at six miles an hour, meeting the most generous and friendly people who are happy to invite us into their homes and give us meals in order just to listen to our stories.
As you age do you feel like your body is breaking down from all the running?
In my case, no. I'm a middle of the field runner. I don't win anything. I don't come last of it. I'm in the middle. Although we run these long distances we don't put ourselves in a compromising position. We don't run so hard and far that we're in great stress. At our age it's enjoyment. It's not going out there to prove anything.
What fuel do you give your body to span these distances?
Joan and I live in moderation. We never eat out. We live very frugally. We don't eat too many fancy foods. We eat a lot of rice and chicken. Neither of us has ever had an alcoholic drink or smoked. Our whole life, fortunately, has been moderation. People say you've got to be a millionaire to travel like you do but we could live on minimum wage and still do it. We save our money.
What do you do besides run?
I retired in 2005 from a printing business in Rathdrum. In South Africa I had a real estate business. At the moment I'm busy writing a book about our adventures. It's called "The Why Book" — why would you walk, run, diet, why would you achieve different things to keep yourself healthy? One of the things we've found over the years is that running six months at a time, it's a self-discipline thing. That's the motivation. When you're in a warm bed in the back of a station wagon facing putting on damp clothes everything says, 'Don't go out there.'
Why compete in the senior games?
Everybody's our age, some are 90-years old. It's just fantastic. If You Go
The 15th Lewis-Clark Senior Games are Wednesday through June 22 in the Lewiston-Clarkston Valley. Categories for ages 50 and up include archery, bowling, shuffleboard, cycling, pickleball, racquetball, table tennis, track and field, volleyball, swimming, tennis, target shooting, and a 5K run/walk. Registration for most events is still available. Details online at www.lewisclarkgames.org.