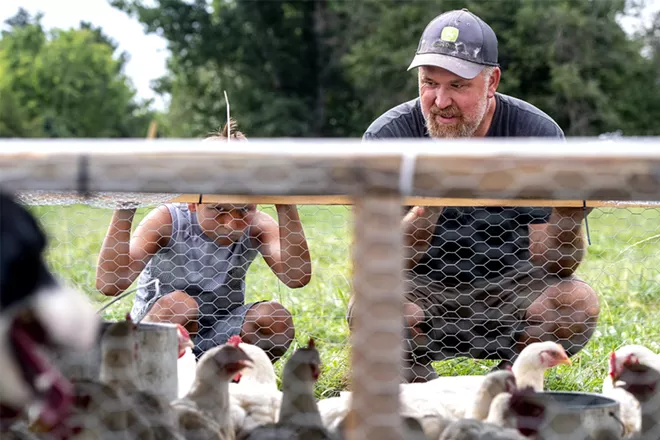 By Karen Young
For Inland 360
Wes and Julie Barnes, high school sweethearts now living in Lewiston and raising their children, had a longtime dream of growing food for local use. A few years ago they bought a 5-acre property on the east end of the Lewiston Orchards, but since they both had full time jobs they didn't have time to do much more than install a few chickens and cows.
Rushing from work, to the kids' sports practices and back home via a fast food restaurant for dinner, "we were in a rut," said Wes.
Then along came the novel coronavirus. Wes was laid off in March, and Julie had to close her hairdressing business. Suddenly they had time on their hands, and opportunity knocked. It started when one of their dogs went on a walkabout and they got a call from a neighbor who found the dog. The neighbor had a tractor and was putting in a big garden. He offered to help them put in a garden. The next thing they knew, they had plowed up more than an acre and were planting all sorts of vegetables.
The pasture ground they used had never produced clover before, but it began to flourish between the vegetable rows and, out of the blue, a large swarm of honeybees appeared and settled in an elderly, hollow tree outside their back door. Now their garden is humming with busy bees amid the clover.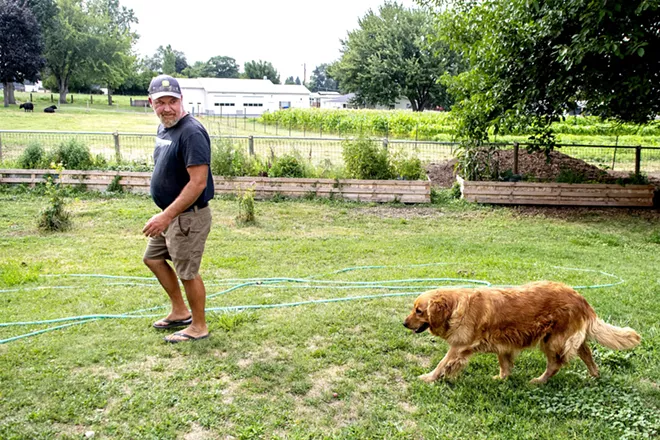 The next thing they realized that they needed was a bull to service their cows, and someone they didn't know initially offered them one at no charge. Now the bull owner is a good friend and the cows are producing calves. They plan to raise and sell grass-fed beef and chicken. The chickens have multiplied and are pastured in "tractors," homemade portable chicken coops, that are pulled around the pasture, giving the chickens a chance to eat various weeds and bugs and grasses.
The contented cows sometimes are reluctant to move when it is time for a new pasture. With what is becoming typical serendipity, someone who was helping pour concrete for their new patio had a working border collie that needed a new home. Now, when the cows need to move, "she really gets after them," Wes said.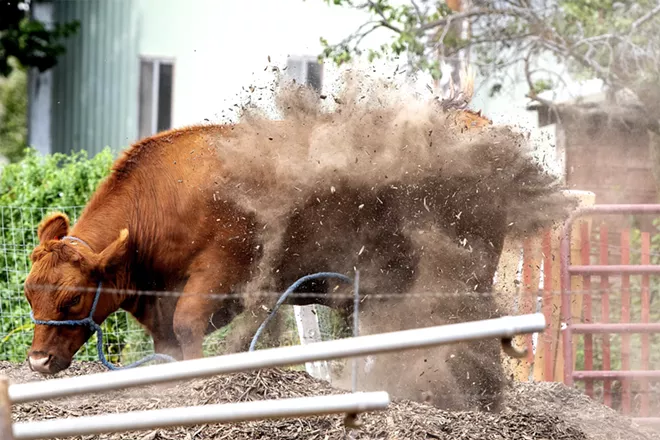 When asked why all of this has happened to them, the Barnes' credit "God's grace and guidance" and the wonderful people that surround them.
"It's the community that has made this happen," Wes said.
He is working as hard as he ever has, but he's at home and feels as if he has found a slower pace of life. He can take time to appreciate the buzzing of the bees, the view of the cows chewing their cud, goats scrambling around bushes, and his children foraging for snacks in the garden.
"We want our kids to avoid being tainted by the food industry," said Wes. He hopes that, for them, "food is connection and food is medicine."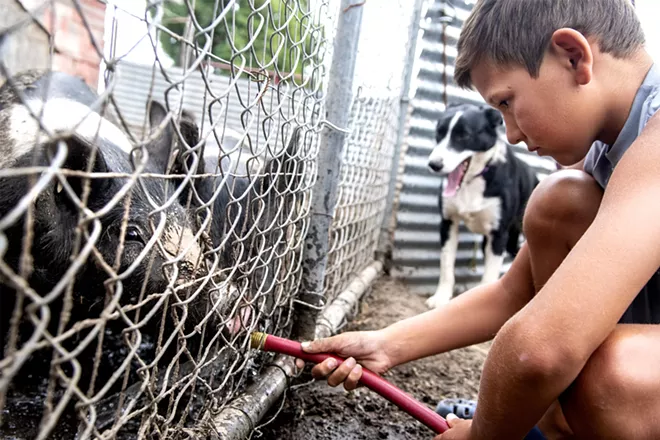 The Barnes have found that by eating more home-grown vegetables, meat and egg products, longtime health issues have disappeared. It helps that they spend a lot of time outdoors during much of their spare time. Outdoor exercise is built into their days.
Julie has gone back to work full time, but Wes is "farmer Wes" now, and a happy man.
"We've never had a garden," he said. "We didn't plan this out. We're spontaneous."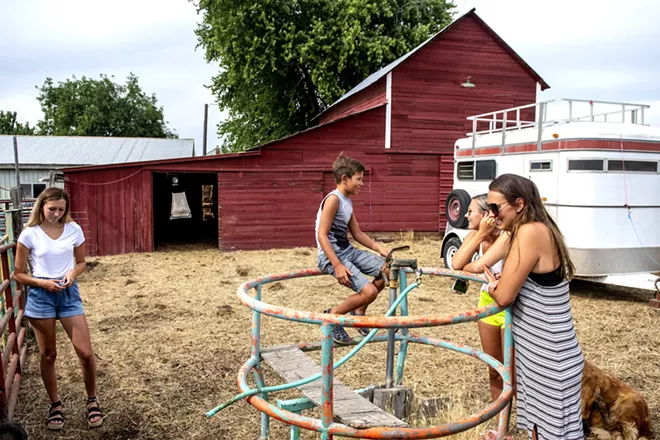 Julie credited the change to the "God gap," where Covid-19 gave them the space to find their dream. Their dream apparently is shared by both of their fathers, who moved to the area and show up frequently to help out on the farm.
The Barnes have done internet research and read books such as Joel Salatin's, "Folks, This Ain't Normal: A Farmer's Advice for Happier Hens, Healthier People, and a Better World," which describes the problems of large-scale factory farming and proposes small-scale, grass-based alternatives. Salatin owns Polyface Farm in Swoope, Va., and sells grass-fed meat directly to consumers and restaurants.
"It would be nice to make a living," Wes said about farming.
To that end, he erected an honor-system farm stand near 22nd Street and Powers Avenue, and the couple sells produce at the Clarkston Farmers' Market. Selling CSA shares may be something they do in the future. He and Julie want to provide local meat, eggs and vegetables, without the toxic herbicides and pesticides, to the community. They hope to inspire others to support the local economy by giving back to friends and neighbors. They want to foster a sense of community, as it is community that nurtured them in living their dream.