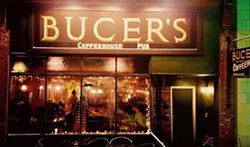 Bucer's Coffehouse Pub of of Moscow recently won its third consecutive Inland 360 Readers' Choice Award, earning the nod as the 2017 Best Coffee Shop.
The downtown Moscow business also earned the award in 2015 and 2016.
This year, Bucer's earned 564 votes during the nine-day voting period from Oct. 21-29. The 564 votes represented 40 percent of the 1,427 votes cast by Inland 360 readers at inland360.com.
There were two finalists named in the contest.
Ballot newcomers Plaid & Pearls of Genesee placed second with 231 votes (16 percent) while The Habit of Cottonwood placed third with 201 votes (14 percent).
The complete results of the 2017 vote and all previous vote totals since the awards began in 2015 are available at https://inland360.com/the-360s/.
Next Up: Best Winery. Voting is Saturday through Nov. 12 at inland360.com.