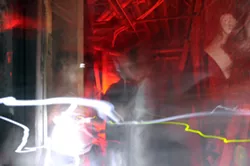 Non-profit clubs and organizations are invited to compete for money at a Haunted Hay Ride at Hells Gate State Park in Lewiston.
Participating groups will create a spooky scene of their choice at a campsite. Only 33 sites are available. Scenes will be judged by a panel of community members. All proceeds will be paid out in prize money. Half of proceeds will go to the top three winners and the remaining half will go to the other participants. Registration opens Sept. 17. Forms will be available at the park and on the Hells Gate State Park Facebook page.
Set up will be 8 a.m. to 8 p.m. Oct. 25 and 8 a.m. to 3 p.m. Oct. 26. Electrical outlets are available in each site. Groups are responsible for providing the necessary equipment and lighting for their scene. No vehicles will be allowed to park in the campground. Park officials will assign sites.
Participants under age 18 must have a minimum of two adults with the group at all times.
The hay ride will open to the public 6-10 p.m. Oct. 26-27. Rides begin at 7 p.m. More information is available by contacting Judy Nuxoll at the park at (208) 799-5015 or judy.nuxoll@idpr.idaho.gov; or Myndie VanHorn at (208) 305-8955 or mvanhorn@fastenal.com.