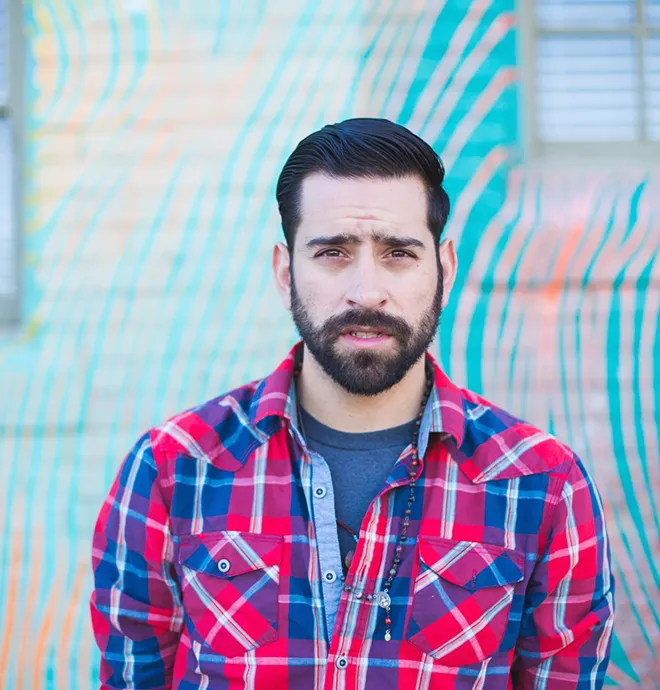 LEWISTON -- The other day hip-hop poet Myrlin Hepworth visited Buffalo Eddy, an outcropping on the Snake River where petroglyphs carved thousands of years ago still remain.
He used to play there as a child. This time he noticed the graffiti that has appeared since he last visited.
"You look at the tragedy of how these rock faces have been vandalized or defamed, but what remains is the legacy and the truth that people have always come together to celebrate their existence through art and that is indicative of human evolution and survival," said Hepworth, who believes that art can help heal society's wounds.
Hepworth grew up in Lewiston with his father and spent summers in New Mexico with his mother. He graduated from Lewiston High School in 2005, then went to college in Phoenix where he discovered slam poetry, becoming a top-ranked performer. For the last 10 years he's made his living as a full-time artist teaching poetry, writing and music around the nation. The Arizona Humanity Council recognized him with its Rising Star Award for his work as a youth advocate and he's been featured on NPR's "Alt.Latino" podcast. Tonight he'll perform his poetry and hip-hop at the 3rd Wheel in Lewiston. Inland 360 spoke to him before the show.
360: What connection do you draw between hip-hop and poetry?
Poetry is just the musicality of language. Really, literature is the musicality of language. They all come from the same creative, expressive force. They're more similar than they are different.
360: What's your focus as a writer?
For me, what I'm interested in is how culture works, how race, gender and class work. It's fascinating because art has allowed me to work in communities all across the country with different folks. I'm not just familiar with the rural landscape of people in Idaho or the Northwest. I've worked with Native American kids on reservations, kids in inner cities in Michigan, Latino kids in California, indigenous kids in Hawaii. I feel privileged to be able to have an inside look at what America is. Sometimes my art speaks critically about where we are falling short. Sometimes it acclaims what makes us beautiful in our own resilience.
360: You believe hip-hop is part of the American story and can transcend race, class and religion. You also say it's informed and created by people who are disenfranchised. Do you feel disenfranchised?
I think those things are relative and hard to examine in just a sound bite. My mother's Chicana. Her family has lived in what is now the U.S. since before it was the U.S., since before Mexico, since before New Spain. I have indigenous blood lines on this continent but that doesn't mean that I haven't, or my mother hasn't, experienced a multitude of situations where we've been labeled foreign. But, at the same time, in a poetry open mic in Charlotte (N.C.), or somewhere else, when the room is mostly African-American folks, to most folks there I just am white. That's what I mean, privilege, it's a complicated thing.
What I've found in my experience working communities with people who are working class blue-collar folks, while they may differ culturally in regards to maybe food or music preferences and manner of speech, people are more similar than they are different. That's not to say that their privileges are the same. I could probably speak to something horrendous or ugly that've dealt with in regards to racial prejudice but that doesn't mean my experience is equal to that of being a woman or being a target of assault because of my gender. Just because people are oppressed doesn't mean they're equally oppressed.
360: Working with kids around the country I imagine you hear a lot of stories about suffering.
Unfortunately, what I see is that in every community in America there is trauma, whether it has to do with drug abuse, addiction, poverty, neglect, physical, emotional or sexual abuse, these things are unfortunately really common things. They're just not spoken about. There's no open dialog about them in our community. When I go in with the art oftentimes those traumas are named in the testimony of young artists.
360: And you believe art has a place in healing these wounds?
I think so. I think art has a very important role in how we see ourselves in the world and how we deal with our lives. I don't know what other greater crisis could rival the event of people removing all music from the planet. If people couldn't listen to or play or hear music, the entire world would be in an uproar and that's just one form of art.
https://www.youtube.com/watch?v=KQwBl837iDs
IF YOU GO
WHAT: Myrlin
WHEN: Doors open 7 p.m., Thursday, Aug. 17; music at 8 p.m.
WHERE: 3rd Wheel, 1634 Main St., Lewiston
COST: $10 at the door, $7 in advance
ADVANCE TICKETS: 3rd Wheel, Sports Edition & Alibi, www.purplepass.com