The head of a bald eagle emerges from a paisley pattern and forms the background in a self-portrait of Tirazheh Eslami.

The digital work is among those by more than 50 artists in an exhibit that starts Friday at the Lewis-Clark State College Center for Arts & History titled "The Land of Persepolis: Introducing Persian Culture to the West."
Eslami, the center's exhibit coordinator, hopes it introduces gallery-goers to the complexity of her native Iran, which has been stereotyped by some.
The exhibit's name comes from Persepolis, a famous archeological site in Iran that was called Persia until 1935.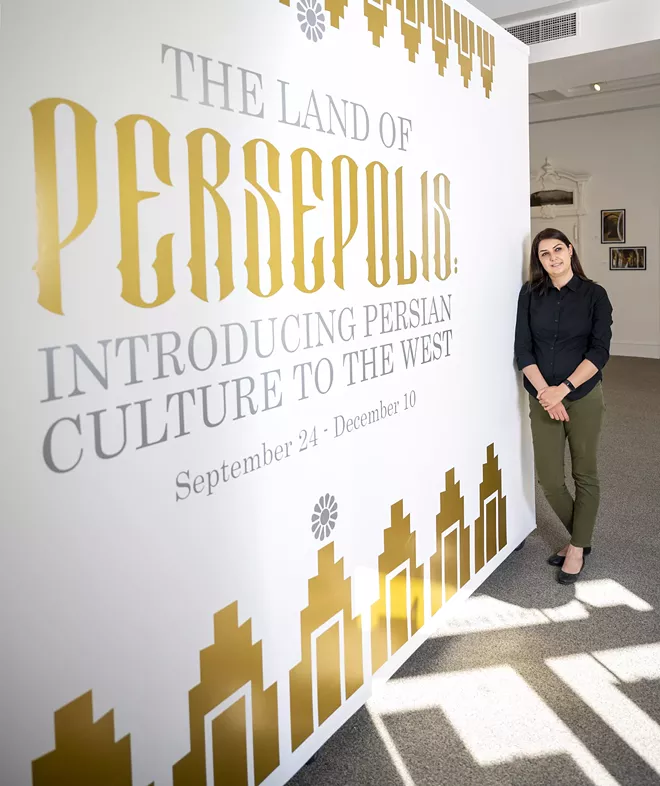 Some of the pieces are done by artists, who, like herself, are Iranian and reside in the United States. Many were completed by Iranians who still live in the country.
Others were done by Americans who explored Persian themes with coaching from Eslami, a lifelong artist.
The exhibit broadens a trajectory her work has followed for more than 10 years. Prior to moving to the United States in 2006 with her husband, Eslami earned an undergraduate degree in fine arts in Iran.
After she arrived in America, she began to explore her hybrid identity. She started with mixed-media pieces that blended Persian components with famous works. The presence of something familiar was intended to make Persian culture more accessible to Americans.
One that's on display at "The Land of Persepolis," is based on Vincent van Gogh's "The Potato Eaters," in which a group of men and women sit around a table in a dark room illuminated by a single lamp eating potatoes.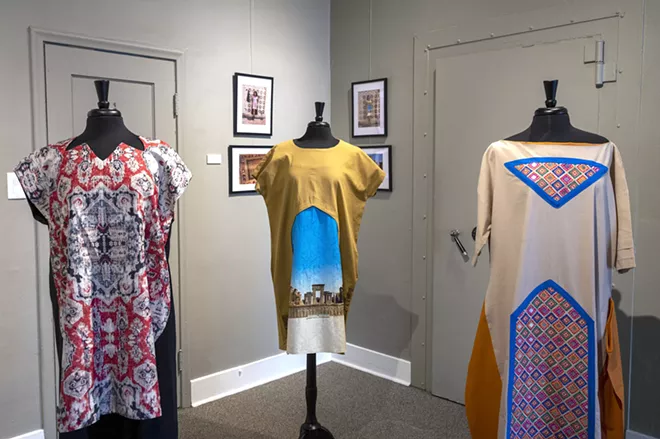 Eslami added a Persian woman dressed in clothing from more than 50 years ago who appears to be observing the group. A potato in the hand of a man in van Gogh's original was replaced by Eslami with a pomegranate.
"Pomegranate means family to me," Eslami said. "When you see the pomegranate, you see all of the seeds, kind of close together. That's representing my family."
An ornate open pavilion has been placed behind the group, and the lamp from the van Gogh painting hangs in it. The pavilion is part of the tomb of Hafez, a poet, in Shiraz, Iran.
"This is a very famous area that tourists visit in Shiraz," she said.


As she progressed as an artist, Eslami moved away from famous paintings and began composing her work digitally on computers. The picture with the eagle is part of that shift.
"In this body of work, I use my body parts, my face," she said. "I'm following hybrid identity, but in a different stage."
She purposely contrasted the eagle, a symbol of strength, with a dove and olive branch to represent peace and included the paisley pattern because of her belief of its connection to Persia.
Some have placed its origin in Spain, but she thinks it came from Persia and was derived from cypress trees.
"I am bringing my Eastern culture and mixing it with my Western culture," she said. "I mix up these two. It's my art."


Just feet away from Eslami's pieces are a series of colorful women's garments on display. They were designed and sewn by her friend, Ramona Shahsavar, an Iranian whom Eslami met as an undergraduate.
Near each one is a picture of the element in Persian culture that inspired it and a model wearing the outfit, a presentation that's part of Eslami's concept of introducing Iranian culture to Americans.
A curvy pattern down the side of one spells the word goddess in the Persian alphabet.
"I want to showcase the beauty of the Persian culture, how deep a history we have," she said.
Motifs common to Persia also are prominent in the contributions of Americans to the exhibit.


One artist, Leslie Lambert, an Idahoan, did a watercolor portrait of Eslami and combined it with a peacock pattern in shades of blue and purple, which is frequently found in domes of Islamic mosques in Iran.
"The whole point for this exhibition is to influence the perspective everyone has thinking of Iran," Eslami said.


Online events:

5 p.m. Wednesday — Opening presentation by Mohammad Ghaedi, a visiting scholar at the Carter School for Peace and Conflict Resolution at George Mason University, in Fairfax, Va.
6 p.m. Oct. 8 — Calligraphy demonstration by exhibiting artist Arash Shirinbab.
11 a.m. Oct. 16 — Cooking demonstration by celebrity/private chef Mojdeh Eghbal, owner of Noush Catering in Los Angeles.
6 p.m. Oct. 22 — Performance and presentation by Rahaa Dance Group from Seattle.
10 a.m. Nov. 6 — Arts workshop by exhibiting artist Rachael Mayer.
4 p.m. Nov. 11 — Presentation by LCSC professor emeritus Rhett Diessner on his encounters with Persian culture.
7 p.m. Nov. 16 — Persian music by Washington State University students Nasir Haghighi and Maziar Mivehchi.
6 p.m. Dec. 9 — Closing lecture on Persian architecture by Vahid Vahdat, assistant professor of architecture and interior design at WSU's School of Design and Construction.


Additional information and mandatory advance registration is available at lcsc.edu/cah/exhibits.
Williams may be contacted at
ewilliam@lmtribune.com
or (208) 848-2261.