Springtime transforms the Lewiston-Clarkston Valley into a sea of pastels — pink dogwood flowers, lavender lilacs and the white blossoms of fruit trees. In a landscape worthy of an artist's paintbrush, it's no surprise an annual art festival took root.
The weekend of April 25-27 marks the 30th anniversary of Art Under the Elms at Lewis-Clark State College, the crowning celebration of April's Dogwood Festival. This year 113 artisans will sell their wares at 125 booths on the Artist Green. Here's a sneak peek at what a few of them are bringing.
Gay Waldman -- Digitally enhanced photography
People often ask artist Gay Waldman where she learned to make art. This weekend she'll be able to point across the Artist Green and say, "Right there."
Waldman, a 1978 graduate of Lewiston High School and 1982 graduate of LCSC, was one of the last students to earn a four-year fine arts degree at LCSC before the program was cut. Today she's a full-time artist living in Spokane where one of her pieces is on permanent display in the Spokane Convention Center's ballroom lobby. The work, titled "Why We Live Here," is four 10-by-10-foot pieces depicting the city's seasons. Recently Gritman Medical Center at Moscow commissioned 22 works by her for a remodel project.
Waldman's medium is digitally enhanced photography.
"To me pushing a button on the camera isn't the end, it's the beginning. Once I take a picture, that's where it all starts," says Waldman, who will be at the festival for the first time.
Waldman learned photography in a journalism class and discovered it was her favorite tool as an artist. She had a darkroom in her home for years but started using Photoshop in the mid-1990s not long after the program was released. After taking a photo she adds line drawings, collage and other layers to create unique portraits of decorative florals, landscapes, architecture and abstract imagery. Her work will range in price from $5 for a handmade card to $800 for wall-framed work.
Lisa Middleton -- Map rehabilitator
In the golden age of cartography maps were not only scientific artifacts but also works of art. With a computer and a paint brush, Lisa Middleton of Great River Arts aims to return that status. The Kalispell, Mont., artist rehabilitates old maps, including maps of the Northwest from the last 200 years. They are hand-drawn and often riddled with errors, she says.
"It's really a joy to discover those inaccuracies and distortions. You're seeing a snapshot of history and where we thought we were 100 years ago and, basically, what humans' interpretations were of their surroundings," says Middleton, a first-time artist at Art Under the Elms.
Some of Middleton's favorite maps are of wagon roads where today's metropolitan centers, like Boise and Spokane, might be labeled "unexplored." She has restored wagon road maps from Idaho, Montana, Oregon and Wyoming with busy patterns of immigrant trails, stage coach routes and major passages. Military maps of eastern Washington and territory maps are among other works for sale, ranging in price from $24.95 gift prints to $800 custom-framed originals.
Middleton, who works as a hospital secretary, often finds maps at old book stores. She scans a map into a computer and works to erase creases, stains and tears. Next, she makes writing legible and adds statements about the map's history and the original cartographer. After printing it in black and white, she brings it to life with watercolor, pastels and colored pencils using topographic maps and satellite images for reference.
Jennifer Aylward - Charm maker
Under the name Just a Little Charm, Jennifer Aylward of Bend, Ore., sells charms made from recycled copper that came from the salvaged roof of a building that was home to the Bend Bulletin for 35 years.
"The copper sat on the roof for 40 years before I got it," says Aylward, who is returning to the festival for her third year.
Aylward cuts, files, shapes and stamps each piece. She draws from more than 400 sayings to create charms for necklaces, earrings, key chains, doorbells and zipper pulls ranging in price from $10 to $55. She has a workstation at her booth where she can personalize items on the spot for people. New this year, she says, is the addition of color to her charms using colored pencils, tinted patina and automotive touch-up paint.
Aylward returns to the festival each year because she likes the layout, the people and the customers. She knows many of the other artisans. If you miss her at Art Under the Elms she'll also be at the Moscow Renaissance Fair the following weekend.
Among the other artisans:
--Rebeccah and Brian Salmeri of Brush Creek Creamery will sell cheese made in Deary. The Salmeri's Jersey cows are raised naturally on a diet of pasture grasses. They use no hormones, chemical pesticides or fertilizers.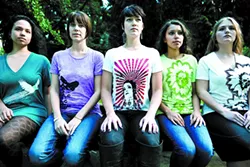 --Original designs on screen-printed T-shirts and tank tops are the canvas for Kevin Darras of Portland, Ore. Under the label Iamdarras, images include Sasquatch and other pop culture icons rendered uniquely wearable.
-- Deana Albers Lloyd of Bozeman, Mont., makes simple, modern jewelry using silver, stones, gold, jeweler's brass and copper under the label Deana Albers Jewelry.
-- Boise Plein Air artist Chi E Shenam Westin paints western landscapes ranging in style from traditional to big brush abstracted on gessoed wood, aluminum and canvas.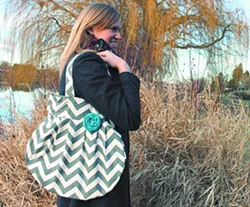 --Stacey Thomson of Sweet Daisy Designs crafts funky hand bags, diaper bags and other accessories at her home on Fairchild Air Force Base in Spokane. She also makes women bags designed to carry concealed weapons.
if you go
What: Art Under the Elms When: --- Noon to 8 p.m. Friday, April 25 (Artist Green closes at 7 p.m.) --- 10 a.m. to 6 p.m. Saturday, April 26 --- 10 a.m. to 4 p.m. Sunday, April 27 Where: Lewis-Clark State College campus Cost: $3 general admission, $2 seniors, youth, students. Good for all three days of the festival. Admission to the food court is free. Of Note: Friday night features a free 6 p.m. concert in the outdoor amphitheater by the Lewiston band 7 Devils. The Dogwood Show and Shine is 10 a.m. to 3 p.m. Saturday at the Fourth Street parking lots.