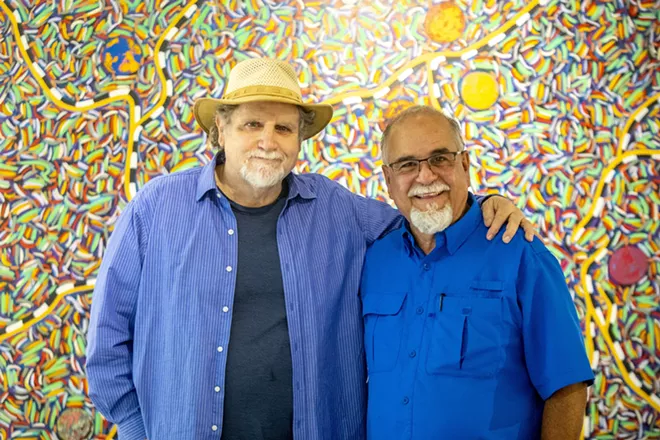 First, the good news: Lewiston's Artwalk is back this weekend after a one-year, pandemic-related hiatus, with a full slate of talent. Downtown businesses will play hosted to the event Friday and Saturday.
And now, the bad: Retired Lewis-Clark State College professor and photographer Sean Cassidy, one of two featured Artwalk artists, has been diagnosed with kidney cancer. Even though Cassidy said he was shaken by the news, it has given a new and profound depth of meaning to the project he will have on display at the LCSC Center for Arts & History.
It's called "Community" and features striking, high-contrast black-and-white portraits of the most important and meaningful people in Cassidy's orbit.
"Some are just people I meet in the community when I'm out and about," he said, noting subjects like a cashier at Albertsons or the owner of one of his favorite restaurants.
Others are his colleagues from the college, or a family member, like his sister. But the one thing they all have in common is holding a special place in Cassidy's heart and mind. That intimacy is starkly apparent in the portraits, but it took on new resonance once those people heard his bad news.
"When you get a cancer diagnosis and all of a sudden you're getting deluged with messages of hope and caring and of love, you realize that almost the totality of your existence is those relationships that you have with other people," he said. "And I feel just so lucky to have the ability to capture some of who they are, and maybe some of what my relationship is with them through the camera. The cancer has put a light on the importance of that community in my life and made it so much brighter. It's almost overwhelming to be honest. It gives me chills when I think about it."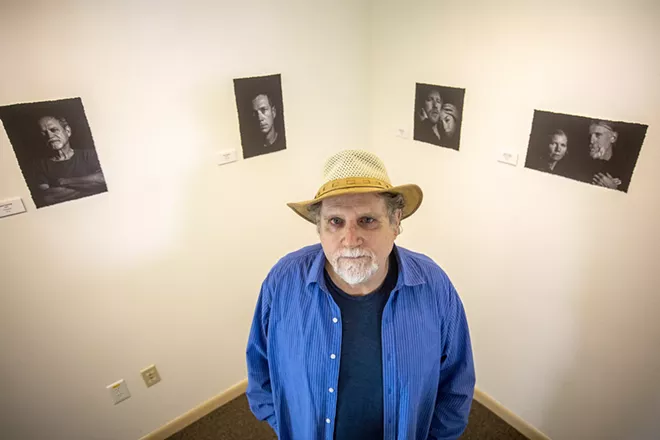 Cassidy is fearful yet hopeful about the future. His doctors believe they found the tumors early and expect he will respond well to treatment. Still, the diagnosis has him thinking about his life and how his latest project is one of its most meaningful chapters.
"If I have any legacy, it's the way that I've been able to have these friendships and these relationships with family members and other people that have made my life worthwhile," he said. "I just feel so lucky to be able to use a camera to express some of that."
One of Cassidy's best friends, Ray Esparsen, is the other featured Artwalk artist. Also a recently retired LCSC professor, Esparsen said he will feature a variety of his works from the past several years, including a selection of his take on retablos, icons created for worship, protection and healing that have been part of Spanish-speaking cultures since the Middle Ages.
"So it's kind of like this broad spectrum of stuff from the last 10 to 15 years," Esparsen said. "It's nice to have it all up together to see what I've been doing. Although I'm at an age in retirement where I'm getting rid of a lot of stuff, even though my art is in my soul. It's like having too many kids, and you just want them to move out."
The Beautiful Downtown Lewiston economic development group organizes Artwalk, and Executive Director Brenda Morgan said it has been a challenge getting things up and running during a pandemic, and after a year off. But everything came together in the end, including work with local government and public health officials to organize safety measures like hand sanitizing stations on Main Street and in participating businesses, face coverings for those who want them and social distancing reminders.
Organizers aren't officially requiring masks for the event, but Morgan said individual hosts might. For instance, they will be required at the Center for Arts & History because it is part of LCSC, which requires masks at its indoor facilities.
One thing that was easier this year is the registration system artists and businesses use to sign up for Artwalk, which was moved online for the first time.
"Artwalk is kind of the kickoff for that," Morgan said of the new system. "We're just thrilled that we have the ability to host this event. I know a lot of our local businesses downtown and otherwise are very excited to be able to experience that this year."
Another feature will be the debut of a new children's book, "My Brother is the Weather," by Lewiston High School science teacher Jeffrey Karlin, who will be at DZ Designs at 821 Main St. Karlin is an award-winning teacher at both the high school and collegiate levels who made the early decision to pursue science instead of arts, but never abandoned his passion for artistic expression, according to Jandeè Publishing.
"Whether painting wildlife, sculpting with hammer and chisel, composing at the piano, taking part in NASA field research expeditions, or even giving a physics lecture, Karlin views art and science as two sides of the same creative coin," the publisher's biography said.
Karlin previously illustrated "The Adventures of Darwin and Wendy."


If you go
What: Downtown Artwalk.
When: When: 4-9 p.m. Friday (opening ceremony 5:15 p.m. at Fifth and Main streets, guest musical performances throughout the evening at various locations).
Cost: Free.
More information: www.beautifuldowntownlewiston.com/downtown-artwalk