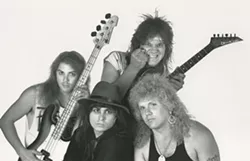 Michael Castle first heard the term "last call" in a bar when he moved to the Lewiston-Clarkston Valley 20 years ago.
The musician was born and raised in Las Vegas where the announcement doesn't exist. As a member of one of the groups that rocked the city's raging 1980s bar scene, he often played from sunset to sunrise. In the morning, he faced a job in construction but he was "young and bulletproof" and when your hobby means a chance to jam with Sammy Hagar, what does sleep matter?
Castle stopped playing music when he moved to the valley with his young family. People knew him as a carpenter at Castle Cabinets and today as co-owner of Clearwater Custom Carpentry & Construction. His Las Vegas legacy recently came flooding back when his former band, Pettey Crime, was nominated for the Las Vegas Rock Reunion Hall of Fame. He'll perform at the induction ceremony April 20-21 in Las Vegas. Among the other bands to be inducted is Mark Slaughter's original group Xcursion.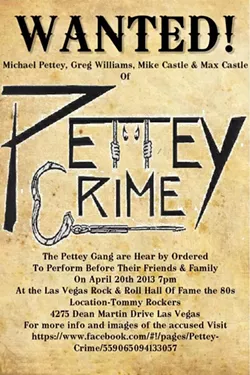 "Musically, there were better bands but because we put on a good show, we developed a strong following," Castle, 46, says about
Pettey Crime
, which took its name from co-founder guitarist Michael Pettey. They used stage props like jail bars, white-striped uniforms, laser lights and confetti cannons obtained from a friend whose father was a famous stage magician. The cannons earned them the nickname "Confetti Crime," says Castle, who was introduced to music as a child in public school.
"Vegas being the entertainment capital of the world, their music program is amped up as well," he says.
When he joined Pettey Crime in 1987, it was the era of the hair bands and like many male musicians, he grew his curly hair long. The band opened for Pretty Boy Floyd and Pat Travers. He says his 15 minutes of fame came in 1991 when he was Sammy Hagar's drummer for a night at the Las Vegas Shark Club.
"Still to this day back in Vegas there's a lot of jealousy," he says with a chuckle. He describes Hagar as "the coolest guy I ever met in my life. It's funny when you meet a star like that and find out they're real people. We talked very little about music."
When Pettey Crime reunites next week, Castle's son Max will be their bass player; the original bass player could not be found. Max graduated from Asotin High School in 2010, plays in the local band Revival Jam and recently started a deejay company called Jawbone Entertainment. He works at the Dollar Tree in Clarkston and says it's his ambition to be a musician.
"To be 21 and play in front of all these people, especially with my dad, that's the best part," Max says.
About three years ago Mike Castle picked up his drum sticks and started playing again with the Lewiston-Clarkston band Rough Kutt, a classic rock and Southern rock group that performs at bars like Canter's Inn and the Wrangler.
"I told myself if I ever find a group of people that wanted to play to just have fun and didn't have stars in their eyes, I'd do it," Castle says.