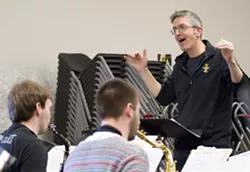 MOSCOW -- As the University of Idaho's Lionel Hampton Jazz Festival marks its 50th anniversary, university officials are striving to take it back to its roots.
Often billed as the largest educational jazz event in the country, the multiday festival unites musical luminaries with thousands of grade school to college-aged students at workshops and concerts.
After the 2016 festival the university seemed to suffer a midlife crisis. It ousted Grammy Award-winning musician John Clayton, the festival's artistic director for the past 10 years, along with its executive director.
University officials said they wanted a stronger jazz festival. Feb. 23-25 those changes will be on display at the annual event. Not all will be visible but some will be apparent, such as the return of ranked student competitions and a shift back to campus.
The festival is back under the purview of the UI Lionel Hampton School of Music, where it began, with faculty overseeing the artistic and educational components.
"We want to implement changes we think are going to positively affect visiting students and UI students," said Vern Sielert, artistic adviser for the festival and director of jazz studies at UI. "We want people to think of this as more of an educational event than a concert series."
One of the major changes this year is the return of student competitions. Clayton rid the festival of first place, second place and other rankings after taking the helm.
"Many directors looked elsewhere to take their student groups," Sielert said. Student registration has decreased over the past 10 years and bringing back the option to compete may be an incentive for some schools, he said.
"This was something we've heard for years," said Torrey Lawrence, director of the School of Music. "It was an issue for schools that wanted to compete and some districts don't fund things at the same level if they don't have the clear assessment competition provides."
Top winners will perform at a free Young Artists Winner's Concert from 4:30 to 6:30 p.m. today through Saturday at the Kibbie Dome. There will also be a new daily sweepstakes prize with a traveling trophy and free entry to next year's festival.
"It's like the Stanley Cup, you have to bring it back," Sielert said.
The young artist's concert was once one of the most exciting points of the day, Lawrence said.
"Thousands of kids are there waiting to hear who had won and, more importantly, waiting to hear them play. We want to see those concerts reinvigorated. In recent years there's been very few people there," Lawrence said.
In another return to the past, top soloist winners from daily competitions will be invited to perform at ticketed evening concerts, giving them a taste of the big stage, something that was not allowed for the last decade, Lawrence said.
They've also changed how adjudicators will work with groups during judging. Sielert's wife, Vanessa, associate professor of saxophone and Jazz Bands at UI, is the festival's educational adviser. She's implemented technology that will allow scores to be electronically sent immediately after rankings are done so students have instant feedback, Sielert said.
The festival has also shifted all its weight back to campus.
In recent years events branched out into community venues like theaters and churches. This presented a logistical problem for directors shuttling students from location to location. In some cases students never went to campus at all. Having everything on campus will make it easier for them. It will also spotlight the university experience, valuable in recruiting future students, Sielert said.
"That's taken a big piece of support from the upper administration for that to happen," he said.
Ticketed evening concerts are slimmed down to three nights instead of four. They will all be at the Kibbie Dome and end by 10 or 10:30 p.m.
"In their heyday they went until 12:30 or 1 a.m.," Sielert said. This presented challenges for teachers with younger students.
Administrators believe the changes are making a difference. Ticket sales, school registrations and student participation are up this year, Lawrence said.
"We're listening to them. We're responsive to their needs and interests. That's what's going to make this festival really work."
Daily workshops are free and open to the public. Complete schedules are available online along with opportunities to volunteer to earn free tickets to nightly shows.