The wooden barns that dot the rolling hills of the Palouse have long drawn the interest and imagination of those passing by. People can investigate them this month in a photographic exhibit at The Center at the Colfax Library.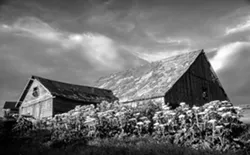 The exhibit features the work of George Bedirian and Ken Carper, both of Pullman, as well as Steve Van Vleet of Colfax.
The black and white photos Bedirian selected for the exhibit were taken during the 1980s while he sought to document both the natural and built environments of the Palouse. Of the 18 barns included in the show, at least half are no longer standing. Bedirian has been photographing the Palouse since 1969. His work has appeared in numerous publications and been exhibited in the Pacific Northwest and the East Coast. His photo collection -- "Palouse Country: An Essay in Photographs" was published in 1987, followed by a revised WSU Press edition in 2000.
Carper's color photographs feature some of his favorite agricultural structures, which he values for their role in the area's economy and history, according to a news release. His photographs are one way to value and preserve structures that are being lost as they deteriorate. Carper, a registered architect and professor emeritus of Washington State University, has long enjoyed photography. His award-winning work has been featured in a variety of publications.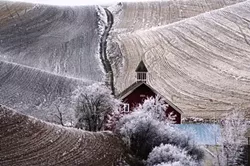 A number of the photos Van Vleet is exhibiting have been included in the annual "Barns of Whitman County" calendars, a fundraising project for the Friends of Whitman County Library. Many of the barns he's photographed have been captured in his work travels as the WSU/Whitman County extension educator in agriculture and natural resources.
IF YOU GO:
WHAT: "Barns of the Palouse" photography exhibit
WHERE: The Center, Colfax Library, 102 S. Main St.
WHEN: 10 a.m. to 8 p.m. Mondays through Wednesdays, 10 a.m. to 6 p.m. Thursdays and Fridays and 1 to 5 p.m. Saturdays and Sundays, now through April 27
COST: Free