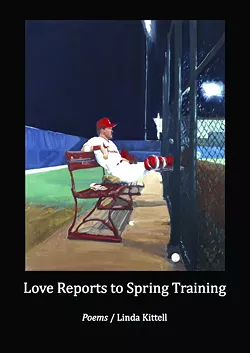 Baseball fans will hang on every play in a game. Could poetry about baseball muster the same attention?
Friday in Lewiston poet Linda Kittell will read from her new book, "Love Reports to Spring Training," a collection of baseball poems, as part of the Lewis-Clark State College Visiting Writers Series.
"There's fun stuff and there's sad stuff," says Kittell, 60, who taught at Washington State University for 27 years and has terminal cancer. "I think if you love baseball, you'll love the poems. If you're open to new ideas, I think you'll be open to the poems, too."
Born in Troy, N.Y., and now living in Troy, Idaho, Kittell's baseball poetry is informed by a love of sports that ran strong as a youth. She once worked as sports editor at a "tiny" newspaper in Vermont.
Her husband, Ron Goble, was a minor league baseball player for the Boise Buckskins. Her word craft began taking form in the creative writing program at the University of Montana.
"I like the metaphor of love being a player," she says of the book's title. "And one thing people should remember — it's really easy to think in terms of a baseball player being male, but the collection has no gender attachment to it at all."
"Pitchers and Catchers Report" In English, these are the four most beautiful words, days like a curtain going up on your whole life. The locker room- bleach, floor wax and fresh paint, the snap and slap of towels, it's all there again. And Love's there too, this time, the first time, looking around, sizing up the others, trying hard to act nonchalant while the old timers keep glancing out at the Annies already lining up, already poking their pens through the backstop.
— Linda Kittell "Love Reports to Spring Training" (Turning Point, 2013)
if you go WHO: Poet Linda Kittell WHEN: 7 p.m. Friday, Sept. 27 WHERE: Lewis-Clark State College Center for Arts & History, 415 Main St., Lewiston COST: Free