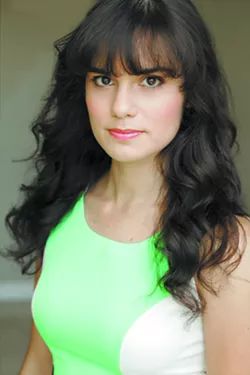 By Michelle Schmidt • Inland360.com
Perhaps the most important thing to know about the path from a childhood in Kamiah to a stage in Los Angeles is that it exists. And Julia Keefe found it.
Keefe spent six of her grade-school years in Kamiah. She and her family later moved to Spokane, where she began singing jazz. She got a degree in vocal jazz performance in 2012 and has since performed in jazz clubs from Paris to her current home in L.A.
Keefe (shown below) will perform at a benefit concert this weekend in Kamiah, where her first public performance took place. But that's not where her dream of becoming a jazz singer was born. Instead, it was where she was nurtured by teachers and by her extended family; Keefe is part Nez Perce.
Keefe describes her mother as a strong Native American woman who modeled what it meant to pursue your dreams. She also modeled good musical taste, listening to Billie Holiday while cleaning the house. What served as background music in childhood became a focus in seventh grade after a school trip to the Lionel Hampton Jazz Festival. Keefe began voice lessons, made her professional jazz performance debut at the age of 14 and won the vocal solo competition at the Jazz Festival her senior year in high school.
As a performer, Keefe describes herself as someone who engages with her audience. She has fun with the music and projects her energy. She tends to stick with the swing and big band jazz standards of the 1920s through the 1960s and loves a bit of good improvisation. She takes her task as a vocalist seriously, driving home the message of the song.
But singing jazz is only part of her career. Keefe is a sound designer at a theater company in L.A. and is collaborating on a theatrical jazz performance that transforms a space into a historical, interactive speakeasy. She's working on two albums. She is an actress, a songwriter and an advocate for women in jazz history.
Besides singing this weekend at a benefit for Kamiah Community Partnership Coalition, a local grass-roots effort to curtail alcohol and drug consumption by youth, Keefe will bring her message to local schools:
"Find your passion and stay focused on it," she said. "Find the thing that you want to do." Finding it, she admits, is half the challenge. It took a year away from jazz while studying musical theater for her to realize that jazz was her passion. She cautions against being so focused that you shut out the other things that you love and warns of obstacles along the way, including the many voices telling you something can't — or shouldn't — be done.
"There'll always be self-doubt, and there'll always be people feeding into that," Keefe said. "You can let those things get to you and pull you down, or you can become successful and prove them wrong. Success is the greatest form of revenge."
Even at the age of 24, Keefe has the confidence and self-awareness to know that, in her words, while she is very talented, she is not the world's best jazz singer. She strives for excellence, but she also knows that being the "best" is not necessarily what she wants out of life. What she wants is to be a happy, well-rounded artist, one who is living a good story."
"If you're not the greatest in your field, it doesn't really matter," Keefe said. "It's about being better than the person you were yesterday."
She credits much of her positive outlook to her immediate family, which she describes as supportive and encouraging. But she also recognizes that much of a person's success and the attitude required to achieve it has to come from within:
"At the end of the day, the only person you have is yourself — so you might as well like yourself." If you go
What: Chocolate Fantasy: An Evening of Sweet Indulgence – Benefit for Kamiah Community Partnership Coalition When: Saturday. Doors open at 5 p.m., dinner served at 6 p.m. Where: American Legion Hall, 618 Main St., Kamiah Cost: $30. To guarantee dinner service, purchase tickets in advance online at kcpcchocolate fantasy.weebly.com or call the Kamiah Community Partnership Coalition office at (208) 935-7647. Schmidt may be contacted at themichelleschmidt@gmail.com or at (208) 305-4578.