A "romantic and humorous version" of the classic fairy tale comes to the stage in Moscow next week with Ballet Fantastique's "Beauty and the Beast."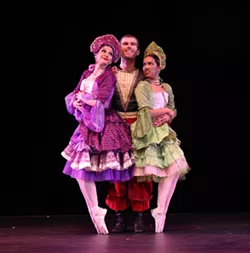 The company, from Eugene, Ore., performs May 13 and 14 at the Hartung Theatre as a presentation of Festival Dance & Performing Arts, based at the University of Idaho.


Fantastique Artistic Director Donna Marisa Bontrager and Founding Executive Director Hannah Bontrager "have chosen to portray the 'tale as old as time' through its Russian folk roots," Festival Dance Executive Director Deanna Bren said in an email.

Based on Sergey Aksakov's 1858 version of the story, "The Scarlet Flower," the plot challenges traditional representations of women in fairy tales.


"This story is about our shared humanity, how art can change our lives, bravery, vulnerability, sacrifice and the transformative power of love," Bren said.


The company, traveling for the first time to the Palouse, brings a full stage production appropriate for all ages.
Because Festival Dance was not able to bring its traditional performance of "The Nutcracker" to the stage the past two years, some of its senior academy dancers will perform during the opening. Nicole Xiao, who has danced with Festival since she was 2, will perform a solo piece.


"She is an exceptional young woman who has received a number of awards this year, and will attend Columbia (University, in New York) in the fall," Bren wrote.


Bringing ballet back after COVID-19 restrictions halted performances has been a challenge, Bren said.


"Most companies are not touring this year," she said, via email. "This company is making an exception."


Of note, two Ballet Fantastique dancers grew up in Idaho, including principal dancer Carolin Koepplin, who "would not be a professional ballerina if it were not for a similar nonprofit like ours who provided dance lessons," according to Bren.


Restoring regular performances will be an ongoing effort, she said, noting Festival Dance survived the COVID-19 shutdown with the assistance of Paycheck Protection Program loans and Coronavirus Aid, Relief, and Economic Security Act grants.


"Ticket sales only recoups a portion of what it takes to bring professional companies to the Palouse," she wrote. "Major sponsors and private donations are what makes shows like these possible, and the future of opportunities like a local 'Nutcracker' performance are really in the hands of the success of this show."