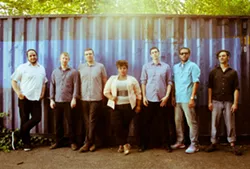 To think that Sarah Clarke's voice almost languished away in obscurity in a Portland karaoke bar is an unsettling thought.
Since emerging as the lead singer of Portland's Dirty Revival, Clark's vocals have been compared to those of Aretha Franklin's. After the seven-piece band released its eponymous first album last year, Clarke discovered a music career she didn't think possible.
While '70s soul is at the heart of Dirty Revival's sound, layers of funk, hip hop and rap make for a blend that stands firmly in 2016. Featured at Seattle's 2016 Northwest Folklife Festival and on NPR's Tiny Desk Concert, Dirty Revival headlines Friday's Capital Street Dock Concert. Before the show, Inland 360 talked to Clarke about the band's path.
360: What was Dirty Revival like when the band first convened in a Portland basement in 2013?
Clarke: "At that time it was not what it is now. It was more of a jam band idea. All of us went to highschool together and Terry Drysdale hit me up as someone to sing with them. My son was two, and I was not sure. I had done choral work in high school and karaoke work as a 20-something (she laughs). ... It was this unruly, large group and no one was really in charge. We were doing a lot of cover tunes but we knew we wanted to do something different. ... Our bass player left and we were joined by Jon Shaw, one of the better bass players in the city with an extensive jazz background and love for funk. His presence glued the group together. We stripped down in size, figured out the sound and started adding elements back in."
360: What is your sound?
Clarke: "We describe our sound as soul, funk, hip hop but even that has changed a lot. We have a lot of heavy rap elements that have appeared in the last six months. We're still evolving, as I think bands are supposed to."
360: Your voice is a big part of that. What is your musical background?
Clarke: "In high school I had dreams of being a musician but didn't pursue anything after that. ... It just didn't work out that way for me. I needed more assurance than a dream that it was going to work out. Recently, I've been able to step away from my day job and focus more on music. My son, Donovan George, he's 5 years old, he was part of the (decision to do this). I wanted my son to know it's OK to do something you love; don't give up before you try. I just wanted to be able to tell him I tried when he got older. It's something to know about life. It's worked out better than I could have imagined."
360: You're a Portland native and so are most of the other band members. How has this affected the way you've come together as a group?
Clarke: "Five out of the seven of us went to highschool together. We actually grew up in the same neighborhood. We're best friends. We're family. We're so close. They're the most important people, besides my son, in the whole world. We share a lot together and feel a lot together."
360: You write your own melodies and lyrics. Do you aim to send a message in your work?
Clarke: "It's so funny, we never really talked about that. I felt 100 percent comfortable speaking on behalf of the group writing lyrics. We didn't have to talk about if we all agree we're against racism. We all share the same core values and beliefs. It's not something we ever have to go over. (Our song) "Lay Me Down" is about heroin addiction and what that does to people and how terrible that can be on the family, and the addict, and the people who love that addict. They didn't question that at all. … We all just think that love is the way to go."
360: You're busy this year touring the West Coast promoting your first album. What does the future hold?
Clarke: "We're aggressively touring the album hoping that 2017 takes us to East Coast or further south. We're not the youngest people; we're all in our mid 30s. Without sounding too full of ourselves, we know this is really special and the intent is to push it as far as it can go. I think people can tap into the relationship we have together. That doesn't just happen. We have every intent of taking advantage of it and just seeing what we can do with it. There's just so much talent there."
https://www.youtube.com/watch?v=Pjw-qzT6qBs
https://www.youtube.com/watch?v=Hp3oAZC1hJ4