Janae Hakala is a music-loving, beat-spinning DJ, on the forefront of the music scene as the University of Idaho's college radio station manager.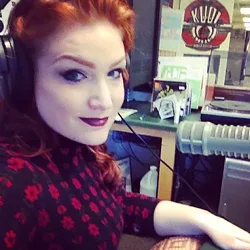 Here, Hakala answers questions about what that's like.
Describe your average day. My job's 10 hours a week, but it can turn into a very full-time job. It just depends on the week. I go to the office, make sure everybody's doing their job. A lot of my job is on email, just getting in contact with bands and promoters and setting up events in the community for the radio station, and also just regular boring stuff, like getting funding for more stickers. I'm the main person responsible for making sure that all of the DJs are adhering to the FCC regulations ... I don't want to say that it's a lot of hard work, it's a lot of fun work.
To be a station manager, you have to be ____. A really good leader. I'm going to grad school for leadership right now and I think that's important. Getting people to be excited about something as you generate interest in things and making sure people follow through and do their job. But also, I think a big part of it is being in touch with music and what's happening right now, because college radio tends to be ahead of the trends.
Do you have your own show? My show's called "Common People" and it's a reference to a Brit pop song and I do it with Brian Hakala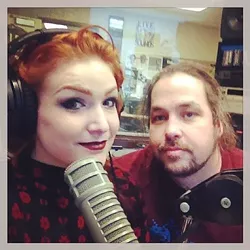 — no relation — and we do, obviously, Brit pop, but also a lot of indie. We'll do a lot of synth pop, we do some older stuff. We call it a history lesson for hipsters. The idea is that we're playing older stuff that maybe people haven't heard yet, even though they're like classics and stuff everybody should know. And then, how that's influencing current music. So, we'll juxtapose it with current music to show where the bands are getting their influences from.
What does a radio show involve? Most people prepare their show — put in a couple hours I would say. Some people put in less time, especially old pros, because they will know what they're doing in the back of their head all week. And just having a good radio personality helps a lot. On college radio, it's a little bit more lenient. ... It's cool if you have banter, especially with two DJs. Some people do exclusively talk shows, so they prepare topics. I usually have more of a genre theme in mind, like I'll be really into garage punk this week and then it'll be pretty much a garage punk show.
What job do you do that people wouldn't expect a radio station manager to do? Maybe, vacuum ... Getting press passes is usually the shocking thing for people, because they think I'm maybe sitting in an office, or — at most — going on air, but really, it's a really community-oriented job.
Are radio workers, DJs or station managers ever stereotyped? Are the stereotypes true?
One of our little slogans for KUOI is "Where diversity reigns," and I have completely embraced that. We have people of all kinds in the radio station. I think that people have the idea of some sort of loner that likes to sit there in the quiet and play his sad music, and maybe we have some of those — and that's cool. And we have people that do like really upbeat Latin music with four different DJs in there. Then, there's people that do feminist talk show, or play-by-play for sports. So, really we have every kind of person.
What's your favorite part as station manager? The exposure to different people. When I first got involved with the radio station, my thing was I wanted to meet people, because I was new to this state and I didn't know anybody and I thought, 'Oh, I really like music, so I'm going to find people that really like music.' And I was very happily surprise that not only people like music, but there are people who like my kind of music and really know what they're talking about.
Why should people who have never listened to 89.3 tune in? They're going to hear music that they can't hear on Top 40. They're going to hear more music or talk, because it's not a commercial station. ... There's a lot of niche programming. It's very specific. For instance, we have a guy that really likes psycho-billy, which is a really obscure genre that nobody's heard of, or even listened to for 10 years, but he's really into it, so he has a whole show about it. And there will be people internationally tuning in to hear his show, because you can't hear that on the radio otherwise ... They'll hear a familiar voice. ... It's very authentic. … Sometimes you hear really beautiful things.
Treffry can be contacted at (208) 883-4640 or ltreffry@inland360.com. Follow her on Twitter at: @LindseyTreffry.
"Behind-the-Scenes" is a recurring Q&A that features art, music and entertainment professionals in the quad-city areas.