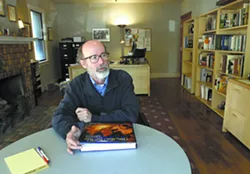 A road is a tangible line that changes history.
Between 1858 and 1862, John Mullan used the latest scientific techniques to construct the Northwest's first engineered highway, a 625-mile road connecting the Missouri and Columbia Rivers, stretching from Fort Benton, Mont., to Walla Walla. Today the route is traveled by thousands a day between Spokane and Missoula on Interstate 90.
Mullan, described by contemporaries as an egotist and megalomaniac, completed the project at age 32. He knew and worked with 19th century figures like Ulysses S. Grant, the Rev. Pierre-Jean De Smet and Yakama Chief Owhi. Streets, banks, parks, monuments, schools and Little League fields along the route bear his name, including Mullan, Idaho, but his own story has been relatively obscure.
Idaho State Historian Keith Petersen's new book, "John Mullan: The Tumultuous Life of a Western Road Builder," (WSU Press, 336 pages) is the first biography of the road builder. Petersen will give a presentation on Mullan and sign books at 6:30 p.m. Tuesday, June 10 at the 1912 Center in Moscow at an event sponsored by the Latah County Historical Society.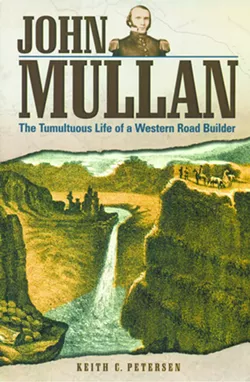 The recent processing of Mullan's personal papers at Georgetown University helped Petersen compile Mullan's life story. The Moscow author spent five years searching more than 30 archives across the country to tell the tale, which begins with promise and ends in bankruptcy and death at age 79 in 1909.
Mullan, a West Point graduate, started the road project 50 years after Lewis and Clark crossed the region. He relied heavily on their journals to find the best route for a military road. By 1863 he'd obsessively explored five possible routes. He traversed Lolo Pass the same time of year as the explorers and quickly rejected it.
"I have never met with a more uninviting or rugged bed of mountains," he noted.
The fact his road ended in Walla Walla helped make it the state's largest and most prosperous city for two decades, but in 1858 Inland Northwest tribes took issue with a road on their lands. This led to a deadly confrontation that came to be known as the Steptoe Disaster, named for the disgraced Col. Edward Steptoe whose troops were outnumbered and under armed. The U.S. flooded the region with troops in backlash to advance the road's progress.
Mullan's road never reached the importance he dreamed of but it changed the fate of Montana, Idaho and Washington. At the end of his life he was negotiating shady land deals and involved in lawsuits that blackened his name. He died broke.
Petersen is the author of "Company Town: Potlatch, Idaho and the Potlatch Lumber Company;" "River of Life, Channel of Death: Fish and Dams on the Lower Snake;" and other books about the Northwest. "John Mullan: The Tumultuous Life of a Western Road Builder" costs $32.95 and is available at wsupress.wsu.edu.
——— if you go Who: Idaho State Historian Keith Petersen What: "John Mullan: The Tumultuous Life of a Western Road Builder" When: 6:30 p.m. Tuesday, June 10 Where: 1912 Center, 412 E. Third St., Moscow Cost: Free Of Note: Refreshments and locally crafted beer from the Moscow Brewing Company will be served.