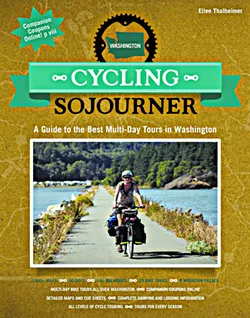 By JENNIFER K. BAUER INLAND360.COM
Cyclists of all levels and means will find vacation adventure in "Cycling Sojourner: A Guide to the Best Multi-Day Tours in Washington."
Author Ellee Thalheimer's small but information-packed, 240-page book does the grunt work of planning short tours around the state. It offers maps, historical information, lodging, restaurant tips, extra curricular activities and packing lists; along with specific information about terrain and weather for each tour.
Thalheimer is the co-author of "Hop in the Saddle: A Guide to Portland's Craft Beer Scene, by Bike," and she doesn't overlook craft breweries and local attractions like farmers markets or the best place for ice cream or yoga in this book.
The cost of each trip is ranked by "purse size." On a small purse ($25-$50/day) you can camp most days and cook your own food.
At the opposite end of the spectrum is the bulging purse ($100 to $300/day) with luxury accommodations and upscale restaurants.
Pullman and Clarkston are included in a chapter called Pedaling the Palouse. The 133-mile, four-day, three-night tour begins and ends in Pullman, taking in Wawawai, the Lewiston-Clarkston Valley, Uniontown and Palouse.
Thalheimer lives in Portland, Ore., and is a freelance travel writer and author of the Lonely Planet's "Cycling Italy" and a guide to multiday bike tours in Oregon. The book is published by Into Action Publications, costs $18.95 and is available at cyclingsojourner.com.