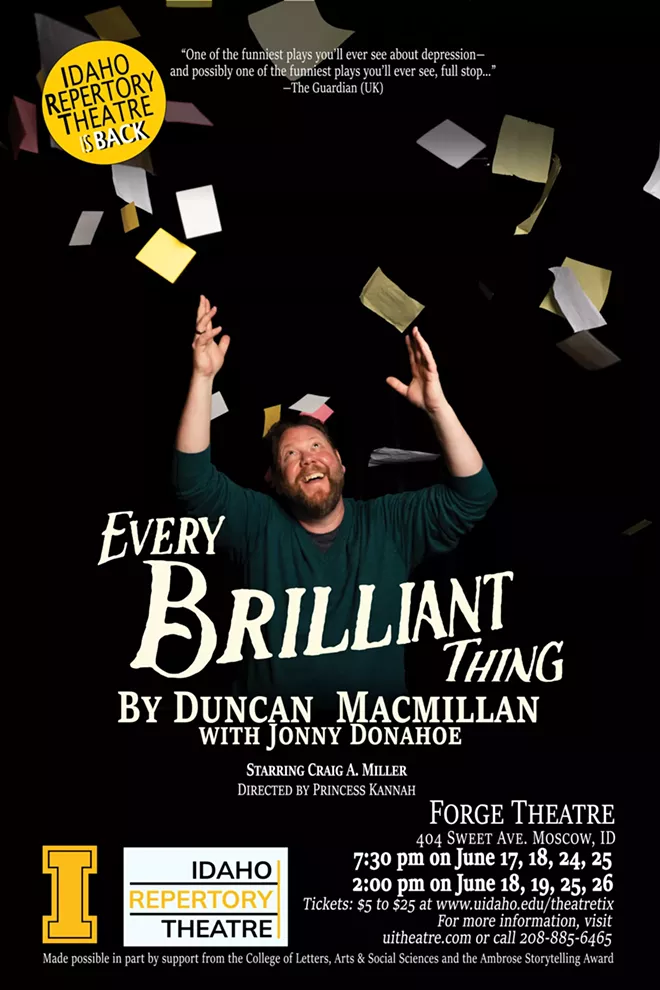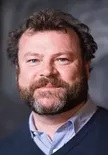 A one-man show opening Friday, June 17, at the University of Idaho's Forge Theatre marks an unexpected milestone in the Idaho Repertory Theatre's history: its return.


The IRT closed its doors in 2016 after struggling with funding issues, namely the lack of a dedicated budget for the program, according to a Moscow-Pullman Daily News story at the time.


Cue leadership changes at various university positions, and, while financial challenges remain, the will to continue the repertory theater prevailed.


"One of the things I was determined to do was revive IRT," UI Department of Theatre Arts Chairperson Rob Caisley said.


Caisley, entering his fourth year as the theater department's leader, said he wanted IRT back both for the community and for his colleagues "to have a creative outlet."


The debut of the resuscitated company comes in the form of "Every Brilliant Thing," described by The Guardian as "one of the funniest plays you'll ever see about depression."


"I'm so excited about this particular play," Caisley said. "It's the kind of play that audiences can expect to see as we move forward with IRT."


The production stars Craig A. Miller, in his fourth year in UI's theater department, having come from a background of professional acting, directing and producing, Caisley said.


It made its UI campus debut earlier this year when student Princess Kannah, who recently graduated with a Bachelor of Fine Arts in theater, directed the show as her capstone project. The production was bolstered by an annual fellowship established by UI alumna and noted author Elaine Ambrose that allows a faculty member to work with an undergraduate student on a creative project.


Caisley attended the performance and found it to be "so moving, and funny and such a meaningful play" he knew it was the right vehicle to relaunch IRT.


"I thought, 'I have to capitalize on this,' " he said.


Royalties were paid for eight additional performances, and the IRT revival was in motion. Beyond that, Caisley said he hopes to tour the play to various school districts in the area.


Continuing the repertory theater will require careful stewardship of endowments and working with the College of Letters, Arts, and Social Sciences dean for financial support directly from the college, Caisley said.


Once this first show is up and running, he said, he hopes ticket sales will provide seed money for next season.
Meanwhile, he's meeting with local businesses and potential supporters in his off time.


A recently launched seat-naming campaign for new chairs in the Hartung Theater, a project funded in part by alumnus Bill Fagerbakke, the voice of Patrick Star in "Spongebob Squarepants," supports the IRT as well. Donations can be made at bit.ly/UITheaterseat.


Stone (she/her) can be reached at mstone@inland360.com.
———
If You Go
What: "Every Brilliant Thing"
When: 7:30 p.m. Friday, Saturday and June 24 and 25 (June 17, 18, 24 and 25); 2 p.m. Saturday, Sunday and June 25 and 26 (June 18, 19, 25 and 26).
Where: Forge Theatre, 404 Sweet Ave., Moscow.
Tickets: $5-$25 at uidaho.edu/theatretix.
Of note: This production marks the return of the Idaho Repertory Theatre after its (temporary, as it turns out) demise in 2016. According to a UI news release: "This life-affirming play will make you grin from ear-to-ear, move you to laughter and at times bring you to tears."