Dec. 4
PULLMAN — "Our Town" by Thornton Wilder will be performed beginning at 7:30 in Daggy Hall's Wadleigh Theatre on the campus of Washington State University here.
Performances also will be staged at 7:30 p.m. Friday, next Thursday and Dec. 12, and 2 p.m. Saturday and Dec. 13.
The Pulitzer Prize–winning play, which debuted in 1938, follows the Gibbs and Webb families as their children George and Emily fall in love, marry and — in one of the most famous scenes in American theater — die, all in the small town of Grover's Corners, according to a news release.
The production will be directed by Mary Trotter as part of the WSU Performing Arts Black Box Classics. Cost is $10 regular price, $8 for those 60 and older and $5 for non-WSU students and youth. The play is free for WSU students.
Tickets may be purchased in advance at http://www.brownpapertickets.com/event/835477 or at Pullman's Brelsford WSU Visitor Center, 150 E. Spring St., and BookPeople of Moscow, 521 S. Main St. Same-day tickets will be available at the venue beginning one hour before each show.
Dec. 6
PULLMAN — The annual Kiwanis Pancake Breakfast will be from 7 a.m. to noon Saturday at Lincoln Middle School here, 315 S.E. Crestview St.
The menu includes pancakes, scrambled eggs, ham, fruit, juice, coffee and tea. The event also will feature musical entertainment and a silent auction. Tickets are $6 for adults and $3 for ages 3 to 12. They may be purchased from Kiwanis members or at the door.
Music will be by the Snake River Six, a Dixieland jazz band, the Auf Gehts German band and pianist Toni Sarai-Clark. Five youth groups also will perform including the Pullman High School choir, Franklin Elementary choir and the Lincoln Middle School jazz band, orchestra and choir.
Dec. 6
LEWISTON — A First LEGO League qualifying tournament will be from 9 a.m. to 5 p.m. Saturday in the Williams Conference Center at Lewis-Clark State College here.
The tournament is for teams from this region featuring children ages 9 to 14 competing in this year's World Class Challenge.
Dec. 6
PULLMAN — "Twisted fiddler" and master of the electric six-string violin Geoffrey Castle will bring his Celtic holiday celebration to Washington State University here at 7:30 p.m. Saturday in Daggy Hall's Jones Theatre.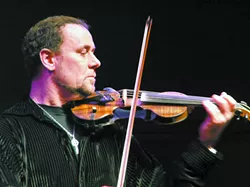 Castle will ring in the holidays Celtic rock style, performing original arrangements of classics like "Greensleeves" and "Carol of the Bells" alongside gems from his album, "Underhill's Angel: A Treasury of Songs for the Season."
Tickets are $16 regular price, $13 for ages 60 and older and $8 for non-WSU students and youth. Tickets are free for WSU students with ID.
Tickets may be purchased in advance at all TickestWest outlets, including online at ticketswest.com; by phone at (800) 325-SEAT; or at the Beasley Coliseum ticket office from 10 a.m. to 2 p.m. weekdays. Same-day tickets will be available at the venue box office beginning two hours before the show.
Free, covered parking is available in the Daggy garage and free parking also is available in the Green 2 lot across the street from Daggy.
Dec. 8
DEARY — Dan Crandall, past director of the Latah County Historical Society in Moscow, will present a free talk on the Civilian Conservation Corps in Latah County at 6 p.m. Monday at the Deary Library.
The CCC was one of the most popular New Deal programs, in existence from 1933 to 1942. The CCC put 3 million young men to work in camps across America during the height of the Great Depression.
Latah County was the site of many CCC camps and a photographic exhibit about the CCC in Latah County will be on display at the Deary Library through Dec. 22.
Dec. 8-10
MOSCOW — A "10-Minute Play Festival" will be staged at 7:30 p.m. Monday through Wednesday at the University of Idaho's Forge Theater here, 404 Sweet Ave.
The festival features 15 short plays written and directed by UI students and graduates performed over the three nights.
Admission at the door is $10 regular price and free for UI students.