Feb. 26-28
PULLMAN — Actors and crew from Pullman High School will stage Louisa May Alcott's "Little Women" at 7 tonight through Saturday.
A matinee will be staged at 1:30 p.m. Saturday. All shows will be at Pullman's Lincoln Middle School, 315 S.E. Crestview St., because of the renovation at Pullman High School.
Tickets, sold at the door, are $10 for regular price, and $5 for students and senior citizens.
Feb. 27
PULLMAN — The Upright Citizens Brigade Touring Company brings its brand of improv to Washington State University's Jones Theatre at 7:30 p.m. Friday.
A team of America's top improvisational comedians will create a 90-minute show based on a single audience suggestion. The group is hand-picked from the UCB theater that was cofounded by Amy Poehler. Tickets cost $20 for regular price, $16 for ages 60 and older, and $10 for students and youth.
Reserved seating tickets are available in advance at TicketsWest outlets, including online at www.ticketswest.com/events/wsu-performing-arts/10391/, by phone at (800) 325-SEAT and at the Beasley Coliseum box office from 10 a.m. to 2 p.m. weekdays. Same-day tickets will be available at the Daggy Hall box office beginning two hours before the performance.
The show is presented by WSU Performing Arts.
The UCB theaters and training centers in New York and Los Angeles were established by Poehler, Matt Besser, Ian Roberts and Matt Walsh, who produced their own "Upright Citizens Brigade" sketch on the Comedy Central TV channel 1998-2000. The UCB Touring Company (http://www.ucbtourco.com/) showcases the best comedians from these theaters.
Feb. 28
PULLMAN — The eighth Annual Fur Ball and Yappy Hour will be 5:30 to 11 p.m. Saturday at the Schweitzer Engineering Laboratories Event Center here.
The theme of the event is "All You Need is Love" and will feature a 1960s motif. All proceeds will benefit the Whitman County Humane Society.
The evening will feature an appetizer, dinner and dessert menu catered by Birch and Barley, a no-host bar, a variety of adoptable pets, silent and live auctions and celebrity servers. Guest speakers will include Kelly Sebold of the humane society and Jessica Rivers of Pullman Regional Hospital discussing the "Prescription Pets" and "Healing Through the Senses" volunteer programs at PRH. Pullman Mayor Glenn Johnson will be the evening's emcee.
Tickets are $50 per person and may be purchased online at www.whitmanpets.org/furball/ or in person at AnimalHaven pet shelter, 1340 S.E. Old Moscow Road in Pullman from 1 to 5:30 p.m. daily.
The SEL Event Center is at 1825 Schweitzer Drive.
March 1
UNIONTOWN — "An Epoch Retrospective: Junette Dahmen and Kay Montgomery" is the latest exhibit at Artisans at the Dahman Barn here, with an opening from 1 to 4 p.m. Sunday.
The two longtime friends and artists will display a retrospective of their works. Both work in watercolor and collage, and were among the first artists to join the Palouse Watercolor Socius.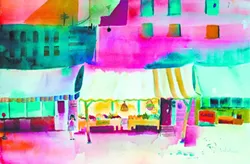 "An Epoch Retrospective" featuring paintings by Dahmen of Uniontown, donor of the barn to the community, and Montgomery of Moscow.
Dahmen no longer creates art but will display some works that have never before been shown, according to a news release. She painted realistic watercolors and created collage mixed media pieces.
Montgomery primarily works with transparent watercolor, but also uses acrylics, inks, fabric dyes, collage and gemstones, as well as pastels and colored pencil.
The barn is at 419 N. Park Way, and is open 10 a.m. to 4 p.m. Thursday through Sunday beginning Sunday.
March 4
MOSCOW — Writer Alison Hawthorne Deming will give a reading and answer questions from the audience at 7:30 p.m. Wednesday at the Kenworthy Performing Arts Centre here, 508 S. Main St.
The free event also will feature a book signing after the question-and-answer session.
The event is part of the University of Idaho's Distinguished Visiting Writer series.
Deming is Agnese Nelms Haury chairwoman in Environment and Social Justice at the University of Arizona where she is a professor of creative writing and affiliated faculty with the Institute of the Environment. She lives in Tucson, Ariz., and Grand Manan, New Brunswick, Canada.
Deming's most recent book is "Zoologies: On Animals and the Human Spirit" (Milkweed, 2014). She is the author of three additional nonfiction books and four poetry books, most recently "Rope" (Penguin 2009). Her new poetry book, "Stairway to Heaven," is coming soon from Penguin.