Nov. 19
PULLMAN — An exhibit at Washington State University here, "The Case of the 12-Year-Old Sheriff Killer: Herbert Niccolls and the Washington Justice System," details the case of the 12-year-old boy who shot and killed Asotin County Sheriff John Wormell in 1931.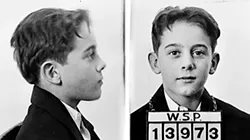 The exhibit is now open in Terrell Library's WSU Manuscripts, Archives and Special Collections, and will continue through March 25.
In August 1931, Asotin County Sheriff John Wormell responded to a report of a store burglary and found 12-year-old Herbert Niccolls Jr. emptying the cash register. The boy drew a loaded revolver and shot Wormell, who died instantly.
The exhibit explores aspects of the crime, the trial, Niccolls' experiences as a juvenile sentenced to life in the state penitentiary and his eventual pardon, according to a news release.
The exhibit features primary source documents from WSU Libraries' MASC, the Washington State Archives and the Asotin County Museum in Asotin.
Nov. 19
PULLMAN — The Washington State University Opera Workshop will perform scenes of love — in English — from operas composed in French in "Viva La France!" at 8 p.m. Nov. 19 in Bryan Hall here. The performance is free.
In Act One of Georges Bizet's "Carmen," the fiery gypsy seduces the naïve soldier, Don Jose, in 19th-century Spain, according to a news release. "Les Contes d'Hoffmann," composed by Jacques Offenbach, combines fantasy, science fiction and horror to tell the tale of the young poet, Hoffmann, and his three great love affairs.
In Gaetano Donizetti's comic opera, "La Fille du Regiment," Marie, an orphan girl raised by a regiment of French soldiers, falls in love with a young Tyrolean, Tonio.
The 21-singer workshop is directed by Julie Anne Wieck, associate professor of voice, and accompanied by Karen Savage, associate professor of piano.
Nov. 21
SPALDING — Nez Perce tribal elders Wilfred "Scotty" and Bessie Scott will speak about Nez Perce War commemorations at 1 p.m. Nov. 21 at the Nez Perce National Historical Park visitor center here.
At the free event, the Scotts will discuss how the remembrances encouraged many tribal members to learn the stories of their own families during and after the 1877 war, and helped to overcome division, according to a news release. Since 1978, the Scotts, along with the late Horace Axtell, annually organized and conducted 1877 battle anniversary commemorations at 17 sites in five states and Canada.
The presentation is part of a speaker series held in conjunction with the park's 50th anniversary.
The visitor center is at 39063 U.S. Highway 95, 12 miles east of Lewiston.
Nov. 21
UNIONTOWN — Ten authors from throughout the region will attend a group book signing from 1 to 3 p.m. Nov. 21 at Artisans at the Dahmen Barn here.
Refreshments will be served, and all the authors' books will be available for purchase at the barn gift shop.
Participating authors and their books are:
Marion Shinn — "Eyewitness to Idaho History"; Dick Riggs — "This and That from Here to There"; Steven Branting — "Wicked Lewiston: A Sinful Century"; Nancy Attebury — "Twas' the Night before the Pendleton Round Up"; Laurel Macdonald — "Save the Birds" and "My Garden"; Carole Simon Smolinski — "Timothy Nolan's Idaho" and "Hells Canyon and the Middle Snake River"; Wil Godfrey — "Seasons of the Steelhead"; Martha Mullen — "Reflections on the Road, A Journey Through Whitman County"; Gerald Hickman — "Good Times in Old Genesee, Idaho" and "Medal of Honor, Custer's Last Stand"; Joyce Wilkens — "Tea Cup Art" and "Walking Sticks Wanderings and Wonderings."
The barn is at 419 N. Park Way along U.S. Highway 195.
Nov. 21
ASOTIN — The fourth annual Treasures N Trees Craft Fair will be 10 a.m. to 4 p.m. Nov. 21 at the Asotin Historic Community Building and Asotin Elementary School cafeteria.
Among the items available for purchase are a variety of crafts, handmade items, jewelry and food. Breakfast and lunch food will be for sale, and are a fundraiser for Asotin nonprofit organizations.
Free horse-drawn wagon rides will be given from 1 to 3 p.m.
The event will be at 305 First St.
Nov. 22
LAPWAI — The annual bazaar at Sacred Heart Parish here will be from 11 a.m. to 4 p.m. Nov. 22 at the church, 203 Birch Ave.
The menu for the meal includes barbecued salmon, baked ham, green beans, scalloped potatoes, rolls, fry bread and a salad bar. Dessert will be pie or cake.
A silent auction will run from 11 a.m. to 1:30 p.m., and the live auction will follow when the silent auction closes.
Other activities include a general store, baked goods and crafts for sale, and children's games.
Cost for the meal is $8 for adults, $4 for children ages 5 through 12 and free for ages 4 and younger.