Oct. 24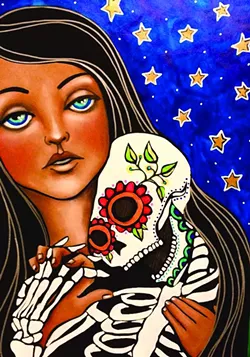 LEWISTON — An art exhibit about the Mexican holiday Day of the Dead, titled "Dia de Los Muertos," will open with a reception from 6 to 9 p.m. Friday at the Blue Lantern Coffee House & Wine Bar here.
The artists featured in the exhibit are Becca Hale, Marisa Gibler, Jaymee Laws and Ray Esparsen.
Wine and appetizers will be available. The free exhibit continues through Nov. 13.
The coffee house is at 326 Main St. and is open from 8 a.m. to 4 p.m. Sunday, 7 a.m. to 6 p.m. Monday, Tuesday and Thursday through Saturday and 7 a.m. to 8 p.m. Wednesday.
Oct. 24
PULLMAN — The annual Dad's Weekend Vocal Extravaganza will showcase vocal ensembles at 8 p.m. Friday at Bryan Hall at Washington State University here.
Groups performing at the concert include:
-- The Madrigal/Chamber Singers, conducted by Lori Wiest, includes undergraduate and graduate students in music and other majors as well as employees and community members. Dressed in costumes reminiscent of the Renaissance, they tour annually.
-- The University Singers, a non-auditioned choir conducted by Dean Luethi.
-- The WSU Concert Choir, conducted by Wiest, is a 32-member mixed ensemble that rehearses four days a week. The ensemble tours Washington each spring and travels internationally every four to five years.
-- Opera Workshop will perform portions of their program, "A Magical Evening of Opera," which will be fully presented at 8 p.m. Nov. 13, in Bryan Hall. Opera Workshop is directed by Julie Anne Wieck and accompanied by Karen Savage on piano.
-- VoJazz, directed by Luethi.
Advance tickets will be available from 10 a.m. to 2 p.m. today and Friday in the lobby of Kimbrough Music Building and at 6:30 p.m. the night of the performance in Bryan Hall. Admission cost is $10 for regular price, $5 for those age 60 and older and for students with ID, and free for children age 12 and younger. Proceeds go to the student ensembles for performances and tours.
Oct. 28
LEWISTON — Kiosks detailing the history of the Brackenbury family in Lewiston will be decidated at 2 p.m. Tuesday in Brackenbury Square, 605 Main St.
Siblings Rodney Brackenbury, Estella Brackenbury Niemann and Dana Brackenbury Bartlett have provided background history and personal stories of the Hotel Idaho and life in one of downtown Lewiston's landmark resident hotels, which stood where the park stands today. The three siblings plan to attend the dedication.
Kiosk No. 1 will face Main Street east of the fountain, and will concentrate on the building history, businesses that were housed there and the destructive fire that ultimately led to an empty lot along Main Street that became the square.
Kiosk No. 2 will be in the square north of the stage toward D Street. It follows the family history of the Hotel Idaho's original owners, and their daughter, Mary Elaine Cole Brackenbury. Life in a Downtown Lewiston resident hotel also is featured.
Oct. 28
MOSCOW — The German ensemble, the Morgenstern Trio, will perform works ranging from Beethoven to Shostakovich during the next Auditorium Chamber Music Series concert at 7:30 p.m. Tuesday here. The performance is in the Administration Building auditorium on the University of Idaho campus.
The group, formed in 2010, won several prestigious prizes in both Europe and the United States. Their program includes two major works for the combination of violin, cello, and piano: Johannes Brahms' romantic "Trio in C Minor" and Dimitri Shostakovich's gripping "Trio in E Minor," written in 1944. The concert will be rounded out by Ludvig van Beethoven's "Kakadu" Variations, and Franz Schubert's "Notturno."
Tickets for the Morgenstern Trio concert are available online at www.uidaho.edu/class/acms, and at BookPeople in downtown Moscow. Prices are $10 for students, $19 for seniors, and $22 regular price. Youth from ages 6 to 12 will receive a free ticket when accompanied by a paying adult, upon request at the door.