Sept. 11
PULLMAN — Whitman Senior Living Community here will hold a spaghetti feed from 5 to 7:30 this afternoon to benefit the Pullman Fire Department. The event is to mark the National Day of Service and Observance.
Dinner will be served at the community, 1285 S.W. Center St., and a suggested donation of $5 is asked for adults. Children will eat for free.
All proceeds will benefit the fire department and members of the emergency medical technician and firefighting teams will attend.
Sept. 13
CLARKSTON — The comedic "Sister Strikes Again: Late Night Catechism 2" will be staged at 7 p.m. Saturday in the Clarkston High School auditorium.
The production is by a professional theatrical touring company, Entertainment Events, based in New York City. The "Late Night Catechism" productions help civic organizations with fundraising, as well as raising money for Catholic nuns all across the country. The Holy Family School Foundation in Clarkston is sponsoring the production.
This show is a nostalgic look back, as if you had a favorite teacher come back and offer a hilarious review of all you've forgotten from catechism class.
Tickets are $30 each and are available at Holy Family School, Holy Family Church office, from foundation members and at www.entertainmentevents.com.
Sept. 13
TEKOA — The Sandpoint-based musical duo Bridges Home will perform in concert at the Empire Theatre here at 7 p.m. Saturday.
Their repertoire features a wide range of musical styles, from Celtic to delta blues, singalongs, American folk melodies, ballads, original songs and musical duets on a variety of instruments, according to a news release. Members are Tami and Dave Gunter and between them they play the guitar, ukelele, banjo, octave mandolin, Celtic harp, accordion, Irish whistle, bodhran, washboard, stompbox and dobro. They also occasionally use a cigar box guitar.
Admission is $12 for adults, $5 for students and free for children 5 and younger.
Sept. 16
PULLMAN — Brian Ward, a music professor at Washington State University, will perform original jazz piano compositions and works by Fats Waller, Jelly Roll Morton and Duke Ellington at 8 p.m. Tuesday in Kimbrough Hall here as part of the Faculty Artist Series.
Tickets will be available in the lobby 30 minutes before the concert. They are free to WSU students with ID, $10 regular price and $5 for non-WSU students and seniors 60 and older. Proceeds from the series benefit the School of Music scholarship fund.
Ward is a professor of jazz piano and jazz history.
Sept. 17
MOSCOW — Electro soul, hip hop musician GRiZ performs at 8:30 tonight at the University of Idaho Student Union Ballroom here. Admission is $10 for non-UI students with ID, $15 regular price and free to UI students with ID.
GRiZ saw the popularity of his single "Smash the Funk" take him to Coachella, Electric Forest, Lollapalooza, and other top concerts.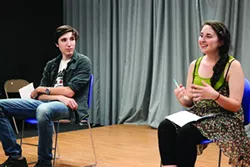 Sept. 17-Sept. 21
MOSCOW — Two one-act plays will open the new University of Idaho theater space here, with the production beginning at 7:30 p.m. Wednesday in the Forge Theater, 404 Sweet Ave.
"Love Improvisation" by Steven Robert King and "Come On Over" by Conor McPherson will be directed by Christina Holaday and Nathaniel Quinn, respectively. Both directors are masters of fine arts candidates at UI. The plays also will be staged at 7:30 p.m. next Thursday through Sept. 21 with an additional matinee at 2 p.m. Sept. 20.
Free parking is available behind the theater or on the street. Admission is free for UI students and $10 general admission. Tickets are available at BookPeople of Moscow or at the door.
Both plays focus on characters who are struggling to communicate and connect while confronting past traumatic events.