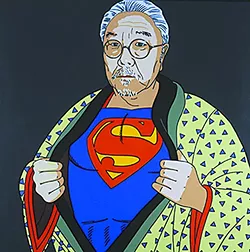 Sept. 18
PULLMAN — "Roger Shimomura: An American Knockoff" will open with a reception at 6 tonight in the Washington State University Museum of Art gallery here.
The reception will be followed at 7 p.m. with a talk given by the artist in the Fine Arts Building auditorium. The exhibit, which is free, will continue through Dec. 13.
The Kansas-based artist's paintings and prints address sociopolitical issues of Asian America, according to a news release. He does this through a painting style that combines his childhood interest in comic books, American pop art and traditions of Japanese woodblock prints, evoking his Japanese ancestry while placing him firmly within modern American artistic developments.
The WSU exhibition focuses on Shimomura's most recent series, "An American Knockoff (2009-present)," in which the artist inserts himself as an aging Asian Everyman in various guises.
The Museum of Art is along Wilson Road across from Martin Stadium in the Fine Arts Center. Gallery hours are 10 a.m. to 4 p.m. Monday through Saturday, and it is open until 7 p.m. Thursdays.
Sept. 19
LEWISTON — Okey Goode, a writer and professor, will give a reading at 7 p.m. Friday at the Lewis-Clark State College Center for Arts & History here.
Goode is a professor of literature at LCSC and has published fiction, nonfiction and poetry in a variety of publications.
The center is at 415 Main St.
Sept. 20
LEWISTON — The 2014 Lewis-Clark Air Festival will be 8 a.m. to 5 p.m. at the Lewiston-Nez Perce County Regional Airport here.
The festival will feature a variety of aircraft to view including a DC-3, P-51, crop dusters, helicopters and military aircraft.
Breakfast will be served in the Experimental Aircraft Association hangar from 7:30-10:30 a.m. and the Nez Perce County Sheriff's Air Posse will serve lunch from 11:30 a.m. to 1 p.m.
An opening ceremony will begin at 10 a.m. with a helicopter demonstration at 2 p.m. and a crop-dusting demonstration at 2:30 p.m.
There is no admission charge.
Sept. 23
PULLMAN — "Love: A Matter of Trust" is the title of a concert which begins at 8 p.m. in Bryan Hall Theatre on the campus of Washington State University here.
Performers will include Julie Wieck, soprano, with Gerald Berthiaume, piano. They will be joined by Lori Wiest, mezzo-soprano, and Ruth Boden, cello. The concert is part of the Faculty Artist Series. Cost is $10 general admission and $5 for senior citizens and non-WSU students. WSU students with ID are admitted free.
All proceeds from the sales of tickets will benefit the School of Music scholarship fund. Tickets are available in the lobby thirty minutes before concert time.
Sept. 24
LEWISTON — The Nez Perce County Historical Society's Fall Historical Lecture Series will begin Wednesday at 7 p.m. with "Historic Photos of Lewiston Never Seen Before: Part I."
The presentation will be given by members of the historical society board in Room 115 of Sacajawea Hall on the campus of Lewis-Clark State College here.
The presentation will include a PowerPoint presentation of selected photos that add to the history of Lewiston over the last century. Audience participation is sought for help with identifying people, places and things in the photos.
Three additional historical presentations are planned Oct. 1, 8 and 15.