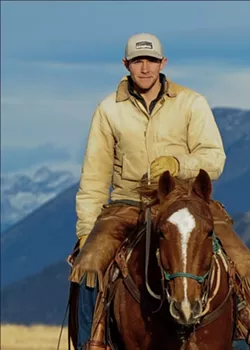 On a remote Montana ranch, they started out with the best intentions.
The 1,400 cattle grazing on the doorstep of Yellowstone National Park would co-exist with the wildlife that also called the land home — elk, grizzlies and, the most looming threat, wolves.
Conservation plans were carefully laid.
They would patrol the herds diligently, track collared wolves with a telemetry system, use non-lethal shotgun loads and cracker shells to haze bold interlopers; and ring cows and calves with fladry, a fence line of colored flags used to deter predators.
It seemed reasonable to ranch hand Bryce Andrews, who worked that summer of 2006 at Sun Ranch in the Madison River Valley, but he still ended up looking down the barrel of a loaded gun in a clash of man vs. nature.
In "Badluck Way: A Year on the Ragged Edge of the West" (Atria Books, 256 pages), Andrews chronicles his experiences on the stunning 18,000-acre ranch then owned by a dot.com millionaire whose conservation practices unsettled many locals.
"I knew that I had lived a very rare story," says Andrews, now 30 and living in Missoula, Mont. "I see stories like this as becoming more and more endangered and rare as time goes on and we lose these truly wild places. My hope is that it would cause people to look critically at the way we use landscape in the Northwest. I have a deep respect for the work of ranching and an equivalent sympathy for wild creatures like the wolf."
Andrews was born and raised in Seattle, where his father ran the University of Washington art museum. His earliest memories of the West include an art show called "The Myth of the West." He remembers practicing his quick draw facing Andy Warhol's duded-up "Double Elvis." As a teen, he worked summers on a Montana ranch. After earning an undergraduate degree in environmental studies and writing from Whitman College, he took a job at the Sun Ranch, which advertised its progressive management program.
Many experts consider the Sun Ranch one of the most important areas in the Greater Yellowstone Ecosystem. It was owned by actor Steven Seagal before millionaire Roger Lang purchased it and put the vast majority in a conservation easement. While some parcels were sold as home lots, the rest was a working ranch with all its brutal labors, frustrations and rewards.
"When a person works long enough on a ranch, he comes to suspect that most of the living things that walk or grow on the hills and pastures are either with or against him," Andrews writes in his book.
As the summer wore on, and the cattle pushed higher into the Madison Range, wolves became a constant presence.
"You could just feel our margin for error shrinking," recalls Andrews. "The wolves began to kill heifers, regularly, every other day for a few days there."
As tension builds, Andrews must do things that challenge his notions of right and wrong. He wrote "Badluck Way" in the solitude of the following Montana winter, "to better find my place in what had happened." The book was published this month. He'll read and sign copies Sunday, Jan. 26, in Moscow.
Andrews hopes his book presents a nuanced view of the junction between agriculture and wildlife. He may have succeeded. A fellow ranch hand's wife told him that this was the kind of book environmentalists would wave in their faces for years to come, he says. Within 24 hours he got an email from a respected Seattle conservationist, who said that this was the kind of book ranchers would wave in their faces for years to come.
"I want to help people understand that you can maintain the dual respect for the work of ranching and the wild. (Both sides) have a huge amount of common ground we really haven't made the most of yet."
In 2010 Sun Ranch was purchased by the CEO of a multinational mining company. Andrews is in the process of leasing a ranch outside Missoula to grow and sell grass-fed beef. When asked what he would do if wolves threatened his herd he answers, "I would want to be flexible."
if you go Who: Bryce Andrews, author of "Badluck Way: A Year on the Ragged Edge of the West" When: 4 p.m. Sunday, Jan. 26 Where: BookPeople, 521 S. Main St., Moscow Cost: Free