An artist reception is set for 4-7 p.m. Oct. 7 at Valley Art Center, 842 Sixth St., Clarkston with watercolorist Danny Tietz, whose exhibit opens Oct. 8 and runs through Oct. 29.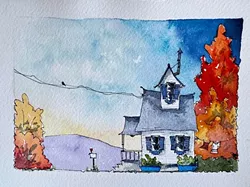 The Clarkston artist uses watercolor and ink to achieve a "whimsical and quirky spirit" in his work, while employing "a meticulous approach using high saturation paints and top-grade cotton paper to capture real-life and not-so-real-life domiciles, landscapes and current events," according to a Valley Art Center news release.


Drawing has always been a part of Tietz's life, according to the news release, beginning before kindergarten and continuing to his high school years in art classes with his favorite art teacher, Craig Whitcomb.