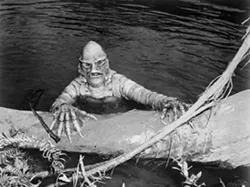 Clarkston High School graduate
Bryan Fuller
plans to make the Munsters capable of truly monstrous things in his upcoming NBC TV series, according to an interview with the screenwriter in the Entertainment Weekly blog.
In the interview Fuller discusses his upcoming remake of the classic TV show. His version is called "Mockingbird Lane."
The article says that the remake is one of the most anticipated TV projects in the works. Fuller tells EW he wants to bring other classic Universal characters into the plot (think Creature from the Black Lagoon or the Invisible Man) if he can get permission.
Why the Munster's EW asked?
"I always loved the original and was much more a Munsters child than an Addams Family child. The Munsters were the more relatable family. The Addams family looked normal but they acted weird and were sort of mal-socialized in a way. The Munsters were a more functional, sane family unit, they just looked different. [The shows] were almost inverses of the same idea. Obviously, Addams came first, then The Munsters took advantage of the Universal monsters and what they brought to the table. What excited me was to tell this story — and it's going to sound strange in regards to this property — in a grounded, more realistic way."
Fuller talks about costumes for the show and more in the full interview.
Fuller, who grew up in Clarkston and graduated in 1987, is the writer behind quirky shows like "Dead Like Me," "Wonderfalls" and Pushing Daisies." His projects tend to collect a cult following. Besides "The Musters" he is writing the TV series "Hannibal" for NBC, which details the beginnings of the infamous serial killer Hannibal Lecter.
David Slade, director of "The Twilight Saga: Eclipse," has been hired to direct the first episode of the series based on the books by Thomas Harris. NBC is picking up 13 episodes of the direct-to-series thriller. The series will focus on an FBI profilier named Will Graham who seeks the help of a psychiatrist named Hannibal Lecter while trying to solve a case of a cannibalistic murderer.
Fuller is also said to be at work on a new version of "Pinocchio" with director Tim Burton.
Here's a link to a Lewiston Tribune interview with Fuller when "Pushing Daisies" premiered.