Festivals, campfire tales and ice cream. It must truly be summertime. Be sure to add in an art exhibit and reading for good measure. More events can be found in the calendar on this website.
July 12
Sixth Street in downtown Clarkston will come Alive After Five July 12 with the monthly summer community event running from 5 to 8 p.m.
The outdoor street fair will feature vendors, community groups, live music and food available for purchase.
July 12
Gather 'round the campfire July 12 for tales told by authors, artists and community members at Moscow's McConnell Mansion. Campfire tales will be told from 7:30 to 9 p.m.
Attendees are asked to bring blankets or chairs for seating around the campfire, and s'mores ingredients will be provided. The family-friendly event is free.
The event is put on by the Latah County Historical Society at the mansion, 110 S. Adams St.
If you can't make this one, the next Campfire Tales will be held Aug. 9.
July 12
"Summer Fun" is the title of the art show currently on exhibit at the Blue Mountain Artisan Guild Art Center in Pomeroy. An exhibit reception is 5 to 6 p.m. July 12.
Carol Wildman of Pomeroy, who works in watercolors, is the show's featured artist, while the featured junior artist is J.D. Nelson of Gig Harbor, Wash.
The art center is at 745 Main St., and regular hours for the exhibit are 10 a.m. to 5 p.m. Tuesday through Friday and 10 a.m. to 2 p.m. Saturday.
July 14
A "Little House on the Prairie" Ice Cream Social will be from 1 to 4 p.m. July 14 at Genesee's historic White Spring Ranch. After the activities, the ranch will remain open until 6 p.m. for tours.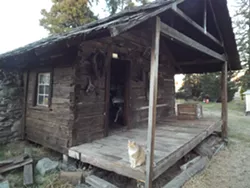 The event will feature a variety of demonstrations and displays, including a dress-up corner, trappers' demonstration and a tepee. The ranch also will display many of the same items found at the ranch that are described in the "Little House" series of books by Laura Ingalls Wilder.
In addition to tours of the ranch's historic farmhouse and 1876 log cabin, ice cream from Ferdinand's at the Washington State University Creamery will be served. Admission for the afternoon is by donation.
The nonprofit ranch is at 1004 Lorang Road.
July 16
Put on your boots for some foot-stomping music as Cowboy Buck and Elizabeth play a high-energy family concert from 4 to 5 p.m. July 16 at Schmuck Park in Colfax.
This duo based in Castle Rock, Wash., puts on a show which includes interactive musical comedy, dance, sing-alongs and ventriloquism, according to a news release.
Cowboy Buck and Elizabeth have entertained for years at schools, libraries, fairs and festival. The concert is free and presented by the Friends of Whitman County Library.
July 17
Christian Winn, Idaho's Writer in Residence, will give a reading and answer questions beginning at 7 p.m. July 17 at the Monastery of St. Gertrude in Cottonwood.
Winn, who lives in Boise, writes and teaches in the creative writing department at Boise State University. His presentation will be followed by a reception.
Winn's most recent book is 2017's "What's Wrong with You Is What's Wrong With Me," a collection of short stories, according to the author's website. His stories, set in the West, have been nominated for a Pushcart Award.
The event will be held in the Johanna Room at Spirit Center on the monastery grounds, 465 Keuterville Road.