With a Wednesday holiday July 4, it seems like just about everything is crammed into a single day over the weekend. Decide on your priorities or make a schedule and hit them all.
June 28
The Moscow Arts Commission Band will play a concert from 7 to 8 p.m. June 28 in Moscow's East City Park, 900 E. Third St.
June 30
The Senders, a popular vintage rock 'n' roll cover band, will play for listening and dancing from 7 to 9 p.m. June 30 at Artisans at the Dahmen Barn in Uniontown.
Tickets may be purchased at the door, which opens at 6 p.m. Cost is $15. Food and beverages will be available for purchase.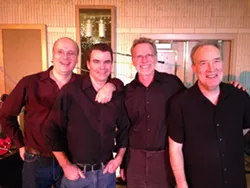 The Senders specialize in pop music from the 1950s and '60s that combines their love of surf music, the Beatles and classic rock, according to a news release.
The Senders have been playing around the region for more than 25 years and members are Hal Logan on vocals and drums; Jim Roberts on guitar; Jon Anderson on keyboards and guitar; and Mark Snodgrass on bass.
June 30
A free community safety fair aimed at helping children learn fire safety is 10 a.m. to 2 p.m. June 30 at Pullman's Brelsford Washington State University Visitor Center.
Attendees can get a close-up look at a police car and drones, speak with a dispatcher, and learn about environmental and general health and safety during the fair.
Free snacks and beverages will be available, along with drawings throughout the event.
The Pullman Fire Department will lead a variety of hands-on fire safety activities. Firefighters will lead children and adults through an agility training course on the visitor center lawn that will include a cut-out house prop with "fire" in need of extinguishing with a hose, according to a news release. At noon, firefighters will demonstrate a complete vehicle extrication.
The visitor center is at 150 E. Spring St.
June 30
Vintage aircraft from World War II, the Korean War and the Vietnam War will highlight the second annual Radials n' Rivers Fly-In June 30 at Hillcrest Aircraft at the Lewiston-Nez Perce County Regional Airport in Lewiston.
The Collings Foundation's Wings of Freedom tour will have airplanes on display and available for tours and rides beginning at 8 a.m., and a ceremony honoring veterans is set for 11 a.m., followed by fly-overs until about 2 p.m.
Attending the event is free, and people can walk through the bombers displayed by the Collings Foundation at no cost. The price for rides on the Wings of Freedom aircraft ranges from $400 per person for a 30-minute flight on a B-25 twin-engine bomber to $3,200 for a 60-minute excursion on a TF-51D Mustang. Reservations are available by calling (978) 562-9182.
Food will be available for purchase and attendees are encouraged to bring lawn chairs to watch the flyovers.
Hillcrest Aircraft is at 540 O'Conner Road.
June 30
What happens when you combine cotton bandannas, red cabbage, vinegar and baking soda?
Kids can find out from 9 a.m. to noon June 30 at the Summer of Science series booth at the Moscow Farmers Market.
This week's program explores using natural ingredients to dye fabric. Children will create their own colorful patterns using vinegar and baking soda-based solutions on bandannas dyed with red cabbage. The free program is for designed for kids ages 5 to 11.
Sonya Meyer, University of Idaho textile and apparel expert, will present the program. Meyer is director of the college's Margaret Ritchie School of Family and Consumer Sciences, which includes a popular apparel, textiles and design program. The Summer Science series is sponsored by the UI College of Agricultural and Life Sciences.