I think there's going to be a lull around Thanksgiving, when the main activity for many of us will be eating and watching football. But until then, there's a lot of stuff happening around these parts. Take a look at these, and be sure to check out the calendar for more.
Nov. 16
MOSCOW — The University of Idaho Concert Band and Wind Ensemble will give a concert at 7:30 p.m. Nov. 16 in the Administration Building auditorium here.
The band is directed by Torrey Lawrence, director of the School of Music, while the ensemble is directed by Alan Gemberling, professor of trombone and director of bands.
Admission is $5 regular price, and $3 for students and seniors. The venue is at 851 Campus Drive.
Nov. 16
MOSCOW — Daniel Bukvich, professor of music at the University of Idaho, will talk about the "Origins of the Vandal Marching Band as You Know It" beginning at 6 p.m. Nov. 16 at the Third Street Gallery in Moscow City Hall.
Bukvich will talk about the band's early history and discuss details with Bob Spevacek, UI professor emeritus of music and the originator of the modern marching band tradition at UI.
His presentation is the third and final talk in the Vandal Traditions Exhibit Speakers Series. The exhibit features historical items from Vandal Athletics, the UI Library Special Collections and Archives and the Leila Old Historic Clothing Collection. The gallery will be open prior to the talk so attendees may view the exhibit. Light deli fare will be provided.
City hall is at 206 E. Third St. and regular exhibit hours are 8 a.m to 5 p.m. weekdays.
Nov. 17-18
Author Dick Riggs of Lewiston will give presentations about and sign copies of his latest self-published book, "Pictures on the Wall: Stories of Historical Interest about Lewiston, Idaho," during events in the Lewiston-Clarkston Valley Nov. 17 and 18.
Riggs will give a presentation and sign books from 1 to 4 p.m. Nov. 17 at the Nez Perce County Historical Society in Lewiston, 0306 Third St.
From noon to 2 p.m. Nov. 18, he will sign copies of his book at And Books Too in Clarkston, 918 Sixth St.
Nov. 18
SPALDING — The author of a new book about the journey of Meriwether Lewis and William Clark on the Snake and Columbia rivers will give a talk at 11 a.m. Nov. 18 at the visitor center of the Nez Perce National Historical Park here.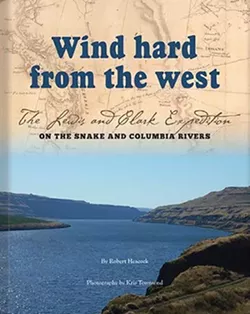 Robert Heacock of Kennewick will talk about his book, "Wind Hard From the West: The Lewis and Clark Expedition on the Snake and Columbia Rivers." The talk is presented by the Idaho Chapter of the Lewis and Clark Heritage Trail Foundation, of which Heacock is a member, and the National Park Service. The book details the expedition on the rivers from 1805 to 1806.
Nov. 18
ASOTIN — The annual Asotin Swingin' in the Moonlight dance fundraiser begins at 7 p.m. Nov. 18 in Asotin High School's Detrick Gym.
The event, which also features dessert, will include music by the Asotin High School Jazz Band and Choir, and the Lewis-Clark State College Jazz Band. Admission is $10 for families and $3 for individuals.
Proceeds will benefit the Asotin School Music program.
Nov. 18
PULLMAN — Heating and energy are the topic of an interactive exhibition opening Nov. 18 at a Family Science Saturday event from 11 a.m. to 2 p.m. at the Palouse Discovery Science Center here.
"Project H.O.U.S.E.: How Our Understanding (of Science) Saves Energy" will feature hands-on activities about heat energy in the Discovery Lab. In addition, a new suite of exhibits will be open to visitors in the main exhibit hall.
Cost is $7.50 for adults, $6 for ages 2 to 15 and $6.50 for ages 65 and older.
Nov. 18
CLARKSTON — The annual Ho Ho Holiday Sale and Auction fundraiser will be from 10 a.m. to 3 p.m. Nov. 18 in the Holy Family Catholic School gym here.
The sale will feature Christmas decor, fresh wreaths, decorated trees, and holiday cookie and candy trays. Free chili will be served beginning at 11 a.m.
Proceeds will benefit the Holy Family School Foundation. The gym is at 10th and Chestnut streets.
Nov. 20
LEWISTON — The Lewis-Clark State College Jazz Band will give a free concert of jazz, big band, Latin and popular music beginning at 7 p.m. Nov. 20 in the Lewiston High School auditorium.
The band is under the direction of Shawn Bowman.
Nov. 22
LEWISTON — Steven Branting of Lewiston will sign copies of his latest book from 11 a.m. to 4 p.m. Nov. 22 at Rosauers here.
Branting, a retired educator, is the author of a series of books about Lewiston history. His most recent is "Our Fruitful Dreams: the Orchards as it Once Was."
Rosauers is at 332 Thain Road.