Nov. 19
UNIONTOWN — Bluestreak will bring its brand of bluegrass to Artisans at the Dahmen Barn beginning at 7 p.m. Nov. 19.
Members of the Spokane-based band include Terry Ludiker of Spokane on fiddle, Bob Asbury of Spokane on banjo, Steve Bauer of Spokane on mandolin, Dave Hackwith of Craigmont on bass and Doug Bond of Sandpoint, lead vocals and guitar.
Originally formed as Columbia in 2006, the band reformed in 2013 as Bluestreak.
Admission cost is $12 at the door.
The barn is at 419 N. Park Way.
Nov. 19
ASOTIN — The annual Swingin' in the Moonlight dance is from 7 to 9:30 p.m. Nov. 19 in Asotin High School's Detrick Gym here.
Groups scheduled to play at the event include the Asotin Jazz Band, Asotin High School Choir and the B Sides, playing classic rock. Snacks are provided.
Cost is $3 per person and $10 per family.
Nov. 19
PULLMAN — Ruh-roh! Scooby-Doo and the gang will tackle a live-action mystery at 1:30 and 4 p.m. Nov. 19 on the stage of Regional Theatre of the Palouse here.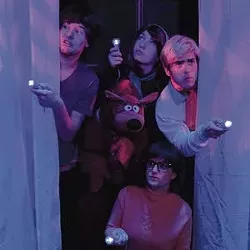 "Scooby-Doo and the Abandoned Mansion," based on the long-running animated TV series, "Scooby-Doo, Where Are You!" will be staged twice at the theater, 122 N. Grand Ave.
Tickets are available online for $9.99 at www.rtoptheatre.org. Cost is $8 for adults or $5 for children by calling the box office at (509) 334-0750.
The cast includes Garret McClure as Shaggy, Megan Bloom as Daphney, Jasper Barbosa Rodriguez as Fred, Alyssa Dalbeck as Velma and Alma Robles as Scooby-Doo.
Nov. 19
MOSCOW — Dancers will take the floor at a community contra dance planned from 8 to 10:30 p.m. Nov. 19 at the 1912 Center here.
Beginners can arrive early for free dance lessons which begin at 7:30 p.m.
The band will be Under the Wire, and caller will be Nora Scott.
The center is at 412 E. Third St.
Cost is $8 regular price, $6 for Palouse Folklore Society members and $5 for first-timers.
Nov. 20
CLARKSTON — The annual Holy Family School Foundation "Ho! Ho! Holiday Auction" is from 10 a.m. to 3 p.m. Nov. 20 in the Holy Family School gym here.
Admission is free, and free chili will be served from 11 a.m. to 1:30 p.m.
Nov. 21
LEWISTON — The Lewis-Clark State College Jazz Band will play its annual fall concert at 7 p.m. Nov. 21 in the Silverthorne Theater on the LCSC campus here.
The concert is free, and the band is under the direction of Shawn Bowman.