By JEANNE M. DePAUL
arts@inland360.com
The holiday season gets into full swing today, so keep an eye out here for special events going on around the region.
Nov. 28
Start your Thanksgiving out with a bit of fun at a fundraiser by participating in the 15th annual Turkey Leg Run Nov. 28 with proceeds to benefit the Palouse Library.
The run starts at 7:45 a.m. Nov. 28 at the Roy M. Chatters Newspaper & Printing Museum, 117 E. Main St. Participation is by donation collected at the start, and over the years the event has raised more than $15,000 which has been used for purchases of new children's books and activities, according to a news release. The start also will feature doughnuts, hot chocolate and hot cider available for participants.
Nov. 30
The 12th annual Winter Magic event featuring a parade and tree-lighting ceremony in Grangeville will be Nov. 30 and feature a visit from Santa Claus.
The parade begins at 5 p.m. in downtown Grangeville with the Grangeville Border Days Royalty as host. The tree lighting will begin following the parade, at approximately 5:30 p.m., in Pioneer Park with Santa making his appearance on a fire truck.
Dec. 1
Santa doesn't get to have all the fun this holiday season. Mrs. Claus will make an appearance at a presentation Sunday at 2 p.m. at the Kamiah Welcome Center along Main Street.
Pam Laird of Kooskia, in character as Mrs. Claus, will give a talk titled "Dashing Through the Snow: The Evolution of Santa."
Dec. 3
The first Pullman Winter Community Fest, a charity fundraiser, will be 4-9 p.m. Dec. 3 at Lumberyard Food Hall in Pullman.
Admission is free, and the event will feature a carnival with activities for children, live music and prizes. Food and beverages will be available for purchase.
Those purchasing a $15 ticket will receive two drinks and a 16-ounce glass printed with the Pullman skyline.
This "Giving Tuesday" event is sponsored by the Washington State University chapter of Engineers Without Borders, and proceeds will be used to help bring water to villages in developing countries.
The Lumberyard is at 305 N. Grand Ave.
Dec. 4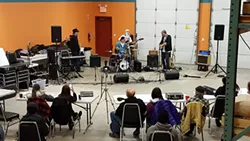 The monthly Riverport Band Jam will be from 6-9 p.m. Dec. 4 at Clarkston's Riverport Brewing.
All band equipment will be available to use, including instruments and amplifiers. Musicians also are welcome to bring their own instruments. Rules include musicians must be tuned and on time, and there must be at least three musicians on stage at a time.
The venue is at 150 Ninth St.