These are the times everyone's calendar is loaded with open houses, concerts, craft fairs and other celebrations of the season. We are no exception. There are way more events — way more — than we have room for on this humble page. Check it out, but don't forget to also look at the online calendar for expanded listings of events.
Nov. 30
MOSCOW — The practice of medicine in colonial times is the topic of a history talk planned by Donal Wilkinson of Moscow at 5:30 p.m. Nov. 30 at the Moscow Public Library.
Wilkinson will give a presentation about medicine practiced during colonial times and will display artifacts pertaining to his talk, including a replica of the medical chest that Meriwether Lewis carried west.
Wilkinson is a history enthusiast who, in 2016, studied under John Fisher of Lewiston, an expert on the medicine of the Corps of Discovery of Lewis and William Clark, according to a news release.
Light refreshments will be served. The library is at 110 S. Jefferson St.
Dec. 1
CLARKSTON — The annual Miniatures Show opens Dec. 1 with a reception at the Valley Art Center here.
The exhibit will feature 43 works by 16 artists.
The reception is 4 to 7 p.m. and will feature refreshments and light appetizers.
The show continues through Dec. 30 at the center. Hours are 10 a.m. to 4 p.m. Tuesday through Saturday.
Dec. 1
COLFAX — The Festival of Trees and Art display here opens Dec. 1 with two rooms filled with decorated trees as well as artwork and photography.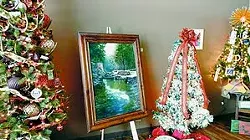 The exhibit is at the Center in the Whitman County Library here, 102 S. Main St.
The themed decorated trees "run the gamut from traditional to zany; sentimental to 'Star Wars,' " according to a news release. Visitors are encouraged to vote for their favorites including a special children's category. Tickets are also available for a drawing for a movie-themed tree donated by Pioneer Title Company of Pullman with proceeds funding a new roof for the Center.
Artists exhibiting their art and photography include Vickie Broeckel, Ken Carper, Greg Kessler, Bob Krikac, Nancy Rothwell, Rob Smith, Henry Stinson and Carrie Vielle. All sales of artwork also benefit the Center roof project.
Winners of the tree decorating contest and the drawing tree will be announced at 7 p.m. during a community reception and open house from 5 to 8 p.m. Dec. 20.
Hours to view the Festival of Trees and Art hours are 10 a.m. to 8 p.m. Monday through Wednesday, 10 a.m. to 6 p.m. Thursday through Fridays and 1 to 5 p.m. Saturday.
Dec. 2
Two longtime craft fairs in the region will be held from 9 a.m. to 3 p.m. Dec. 2.
The 21st annual Beadwork Bazaar will be held in the visitor center of the Nez Perce National Historical Park at Spalding. Several artists will showcase their talents with traditional (beading and weaving) and contemporary (painting and sculpture) art forms. The center is 12 miles east of Lewiston at 39063 U.S. Highway 95.
The 38th annual Associated Students of Lewis-Clark State College Christmas Craft Fair will be 9 a.m. to 3 p.m. in the Lewiston college's Activity Center, 602 Ninth Ave.
The artisan craft fair is a fundraiser that helps to support graduation activities at LCSC.
Dec. 2
UNIONTOWN — Two authors from this region will sign copies of their books Dec. 2 at Artisans at the Dahmen Barn here.
Daniel R. Vertrees of Bovill will sign copies of his book, "John: The Making of a Long Hunter," from noon to 2 p.m. The historical novel is one in his "Man of Kentucky Series."
Retired astronaut John B. Herrington of Lewiston will read and sign copies of his book, "Mission to Space," from 1 to 3 p.m. Children in attendance will be entered into a drawing for a free signed copy of "Mission to Space."
The barn is at 419 N. Park Way.