Broaden your horizons with an out-of-this-world planetarium visit or viewing a famed Chinese film. Settle in for choral or brass music, and enjoy a harvest supper fundraiser.
Nov. 9-10
The Palouse Choral Society will perform a Veterans Day program, "Home of the Free and the Brave," in Pullman and Clarkston this weekend.
The program begins at 7:30 p.m. Nov. 9 at Pullman's Simpson United Methodist Church, 325 N.E. Maple St., and at 6 p.m. Nov. 10 in the Clarkston High School auditorium, 401 Chestnut St. It will include a Civil War requiem and patriotic favorites, according to a news release.
Sarah Graham is artistic and music director of the society, while the children's choir is led by conductor Stephanie Sant.
Admission is $20 regular price, $8 for students and free for all veterans and children ages 6 through 12.
Nov. 9 and 11
"Mayan Astronomy" is the title of the next Washington State University planetarium show at 7 p.m. Nov. 9 and 5 p.m. Nov. 11 on the Pullman campus.
The WSU Planetarium is in Room 231 of Sloan Hall. The show will features the sophisticated astronomy of the Mayan culture and a fulldome animation produced under the auspices of the National Council of Science and Technology of Mexico, according to the planetarium website.
Cost is $5 regular price and free for children ages 6 and younger. Payment is accepted in cash or check only.
Nov. 11
The Latah County Historical Society's annual Harvest Dinner, the group's largest fundraiser of the year, is 11 a.m. to 2 p.m. Nov. 11 at the 1912 Center in Moscow.
The meal will feature soups, salad, rolls and homemade desserts, as well as a no-host bar. The event also will feature a silent auction.
Cost is $20 regular price, $18 for LCHS members, $10 for ages 7 to 12, and free for ages 6 and younger.
The 1912 Center is at 412 E. Third St.
Nov. 13
The American Brass Quintet will perform at 7:30 p.m. Nov. 13 in the Administration Building auditorium on the Moscow campus of the University of Idaho.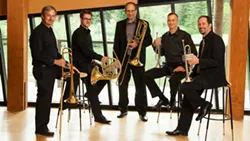 Members of the quintet are Kevin Cobb, trumpet; Louis Hanzlik, trumpet; Eric Reed, French horn; Michael Powell, trombone; and John D. Rojak, bass trombone.
Admission is $25 regular price, $20 for ages 60 and older, and $10 for students. The purchase of one regular ticket allows one free admission for ages 6 to 12.
Advance tickets may be purchased at BookPeople in downtown Moscow.
Nov. 14
A 1963 film described as "China's 'Romeo and Juliet,' " will be screened at 7 p.m. Nov. 14 in Moscow's Kenworthy Performing Arts Centre.
"The Love Eterne," shown in Mandarin with English subtitles, is free and sponsored by the University of Idaho's Confucius Institute.
Jeff Kyong-McClain, co-director of the Confucius Institute, will give a brief introduction prior to the film, and he will lead a discussion following the screening.
The film is a re-telling of the ancient Chinese folk tale of the ill-fated lovers Liang Shanbo and Zhu Yingtai, according to Kyong-McClain.
The theater is at 508 S. Main St.