By JEANNE M. DePAUL
arts@inland360.com
A variety of music for many listeners is on this week's buffet with some dance and shopping thrown in as well.
Oct. 25
Classical guitarist Peter Fletcher, based in both Detroit and New York City, will give a concert at 7 p.m. Oct. 25 at the Asotin County Library in Clarkston.
Fletcher, who performs more than 100 concerts each year, will play a program that includes "Jesu, Joy of Man's Desiring," "Rumores de la Caleta" and "Five Bagatelles" as well as two Bach lute suites.
Fletcher records on the Centaur Records and Towerhill Recordings labels.
Oct. 25-26
The annual two-day craft fair in Pullman, the Fall 2019 Vintage & Handcraft Fair, will be Oct. 25-26 around the concourse of Beasley Coliseum on the campus of Washington State University.
The fair's hours are 10 a.m. to 8 p.m. Friday and 9 a.m. to 5 p.m. Saturday. Organizers are focusing on vintage items this year, as well as handcrafted goods. There is no admission charge.
Oct. 25 and 27
Your Halloween preparations may include a planetarium tour of "Haunted Skies" at 7 p.m. Oct. 25 and 5 p.m. Oct. 27 on the Pullman campus of Washington State University.
The show, which features the imaginary terrors of the night sky from myth and legend, will be in the WSU planetarium in Room 231 of Sloan Hall.
Admission cost is $5 (cash or check only) and free for children ages 6 and younger.
Oct. 26
The Acrasians will provide the live music, and Pat Blatter of Boise will be the caller for the annual Halloween contra dance planned Oct. 26 by the Palouse Folklore Society at Moscow's 1912 Center.
The dance is held from 8-10:30 p.m., but free dance lessons for beginners start at 7:30 p.m. No partner is required, and families are welcome. Costumes are encouraged but not required.
The Acrasians are from Boise, where the band also plays contra dances. Members include Tim Sommer on guitar, Monica Pollard on piano and Ken Pollard and Jan Beckwith on fiddles.
Admission to the dance is $8 regular price, $6 for PFS members and $5 for first-time dancers. Children are admitted free.
Oct. 26 and 27
The Palouse Choral Society's 20th anniversary season will kick off with two performances of "Thanks for the Memories" this weekend at St. Boniface Catholic Church in Uniontown.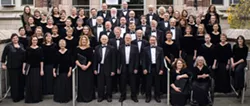 The Oct. 26 concert begins at 6 p.m. while the concert Oct. 27 begins at 4 p.m.
The program of the chorale and chamber choirs will include favorites chosen by past and present directors. The current director is Paul Thompson, assistant professor and director of choral activities at the University of Idaho in Moscow. Past directors, Chuck Neufeld and John Weiss, also will conduct their favorites.
The church is at 205 S. St. Boniface St.
Oct. 28-30
The Idaho Bach Festival 2019 features three concerts over three days on the Moscow campus of the University of Idaho.
The Palouse Brass Ensemble will play at 7:30 p.m. Oct. 28 in the Administration Building auditorium.
UI faculty solo and ensembles will take the stage Oct. 29 in the Haddock Performance Hall for the second concert of the festival beginning at 7:30 p.m.
Admission cost for the first two concerts is $6.
The third and final concert, "Back in the Round," is a free student recital and begins at noon Oct. 30 in the Idaho Commons Rotunda.