Autumn sunshine makes us forget last weekend's horizontal rain even happened. Keep a few outdoor activities on your list with some indoor stuff if you need a respite.
Oct. 26
LEWISTON — An outdoor benefit concert featuring a number of bands from Lewiston will be 5 to 8 p.m. Oct. 26 on the lawn outside the Lewis-Clark State College Library here.
Organizers say admission is by donation, with all proceeds going to the hurricane relief fund of the American Red Cross.
Bands and musicians scheduled to perform include Brothers (Dallas Boyd and John Gosse), Brian Grimm, WainBraves (Jaxon Frederick), Marshall Fisher, C.J. Kaufman and Lane VanHorn.
Soup and hot chocolate will be available for purchase with those proceeds also going to the Red Cross.
In the event of rain, the concert will be moved to the LCSC Williams Conference Center.
Oct. 27
PULLMAN — Ballet Idaho will dance both classical and contemporary pieces during a performance beginning at 7:30 p.m. Oct. 27 in Washington State University's Jones Theatre here.
The company will showcase several classical pieces, including the White Swan pas de deux from "Swan Lake," and a pas de deux from "Raymonda's Wedding," both choreographed by Peter Anastos, artistic director, according to a news release. The performance also will feature three contemporary ballets first premiered in Ballet Idaho's continuing "NewDance" series, featuring choreography by company members, Phyllis Rothwell Affrunti, Nathan Powell and Daniel Ojeda.
Ballet Idaho has been performing in the state since 1972 and remains Idaho's only professional ballet company.
Reserved seating costs $25 for adults, $20 for students and $17 for ages 15 and younger. Tickets are available through the Festival Dance Office by calling (208) 883-3267, all TicketsWest outlets, online at TicketsWest.com, by phone at (800) 325-SEAT and at WSU's Beasley Coliseum ticket office (open 10 a.m. to 2 p.m. weekdays).
In addition to the public performance Friday evening, Ballet Idaho's first-ever trip to the Palouse will include a free school show Friday morning for several hundred third- and fourth-grade students from across Latah and Whitman counties.
Oct. 27
MOSCOW — The Prichard Art Gallery here will exhibit a retrospective of plein air paintings by Leo E. Ames, the University of Idaho's former longtime Creative Services director, opening Oct. 27.
The exhibit opens with a reception from 5 to 7 p.m. Oct. 27 and continues through Dec. 23.
During Ames' tenure as director of Creative Services at UI, he introduced the original UI "daisy" or "sunburst" logomark, which branded the university for almost three decades, according to a news release. He also designed the University and College Designers Association award-winning logo of an egalitarian Vandal that branded UI Athletics for almost 20 years, as well as the commemorative centennial identity, including souvenirs.
Ames' work will be presented alongside the College of Art and Architecture's annual faculty exhibit. Collectively, the exhibit celebrates the Leo Edwin Ames Art Scholarship Endowment and pays tribute to faculty members' creative activity and scholarly research. The Prichard exhibit celebrates Ames' achievements as an artist. The endowment was established by his family to support students working toward their Master of Fine Arts.
Gallery hours are 10 a.m. to 8 p.m. Tuesday through Saturday, and 10 a.m. to 6 p.m. Sunday. The gallery is downtown at 414/416 S. Main St. Admission is free.
Oct. 28
UNIONTOWN — Rhythm-and-blues band Charlie Butts and the Filter Tips will play a dance concert from 7 to 9 p.m. Oct. 28 at Artisans at the Dahmen Barn here.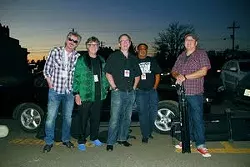 The five-member band has been playing around the region since 1994 and has released three CDs, most recently "More Peas" in 2011, according to a news release.
Members include Butts, saxophone, harmonica and vocals; Joe Brasch, guitar; Mark Norton, keyboards; Luther Hughes, drums and vocals; and Eddie Ramirez, bass guitar.
Admission is $15 at the door, which opens at 6 p.m. Food, beer and wine will be available for purchase.
The barn is at 419 N. Park Way.
Nov. 1
LEWISTON — David Gray Adler will give the first Moore Honorary Lecture at noon Nov. 1 at Lewis-Clark State College here.
The lecture, titled "The Constitution and Religion: Origins and Challenges, and Accommodations," will be given in Room 115 in Sacajawea Hall.
Adler has been a distinguished professor of political science, public policy, and constitutional law at several Idaho universities, and is president of the Alturas Institute based in Idaho Falls. In 2010 he received the Idaho Humanity Council's annual Outstanding Achievement in the Humanities Award, according to a news release.
The lecture is named for Richard Moore, a longtime professor at LCSC who moved to Lewiston in 1978. During his tenure, he was a professor of political science and international affairs, served as chairman of the Social Science division, acting chairman of the Nursing Division and acting dean of the School of Arts and Sciences. He also was twice chairman of the Faculty Senate and Association. He retired from LCSC in 2005.