What do the Everly Brothers, corn on the cob and bagpipes all have in common? Well ... nothing really in the strictest sense. But you can sample them all — and more — over the next week. There's a lot of stuff going on around our region, so get to gettin'.
Sept. 13-16
The University of Idaho Theatre Arts Department will stage "A Kind of Alaska" by Harold Pinter, which opens at 7:30 p.m. Sept. 13 in the Pocket Playhouse in Shoup Hall on the UI campus in Moscow.
The one-act play, directed by Ricky Kimball, also will go on at 7:30 p.m. Sept. 14 and 15, and Sept. 20-22, and 2 p.m. Sept. 16 and 23. The plot follows a woman who wakes from a 29-year coma.
Cost for evening shows is $5 to $15 and free for UI students. Matinees are billed as "pay what you can." Tickets are available at BookPeople in downtown Moscow or at the door 30 minutes before the show. Shoup Hall is at 1028 W. Sixth St.
Sept. 14
The Everly Brothers Experience, a brotherly musical tribute to the famed Phil and Don, will take the Beasley Coliseum stage at 7:30 p.m. Sept. 14 at Washington State University in Pullman.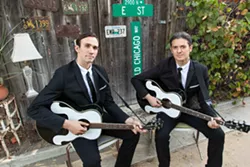 The show features the Zmed Brothers, Zachary and Dylan, on acoustic guitars and vocals, along with the Bird Dogs Band.
Phil and Don Everly, known for their acoustic guitars and close harmony singing on such hits as "Wake Up Little Susie" and "Cathy's Clown," were inducted into the Rock and Roll Hall of Fame in 1986 and the Country Music Hall of Fame in 2001.
According to the Zmed Brothers' website, "We are not impersonators. Our aim is to honor the aesthetics of their iconic sound and honor their unique place in music history all while having a little fun telling our own personal story." They are the sons of actor Adrian Zmed.
Cost for the concert is $20 regular price; $15 for WSU staff, faculty, students; and $10 for those age 60 and older. Tickets may be purchased at the Beasley ticket office, open 10 a.m. to 2 p.m. weekdays, or through TicketsWest.
Sept. 15
The annual Corn Feed and Auction sponsored by the Holy Family School Foundation begins at 5 p.m. Sept. 15 in the Holy Family Catholic Church parish hall in Clarkston.
The menu includes corn on the cob, naturally, as well as hot dogs and coleslaw. Cost is $5, with children ages 5 and younger eating for free. All proceeds benefit Holy Family School.
The parish hall is at 1109 Chestnut St.
Sept. 15
The Palouse Folklore Society's community contra dances move back to the 1912 Center in Moscow with Sept. 15's event featuring live music by the River City Ramblers and calling by Nora Scott.
Free dance lessons begin at 7:30 p.m., and the dance is from 8 to 10:30 p.m. Cost is $8 regular price, $6 for Palouse Folklore Society members, $5 for first-timers and free for children.
The center is at 412 E. Third St.
Sept. 16
The sound of bagpipes and drums will fill the outdoors around the Cordelia Lutheran Church as the Border Highlanders of Moscow play a 2 p.m. concert Sept. 16.
The free concert is the final one in this season's Cordelia summer music series at the church, 1501 Danielson Road, Genesee.
Sept. 19
"Albatross" a PG-13-rated film in the Food for Thought Film Series, will be shown at 7 p.m. Sept. 19 at the Kenworthy Performing Arts Centre in Moscow.
Filmed on Midway, an island in the North Pacific, the film follows a family of albatross amid increasing oceanic plastic pollution, according to www.Kenworthy.org.
The film will be preceded by a short presentation by Wieteke Holtuizjen, a former environmental science researcher at the University of Idaho.
The Kenworthy is at 508 S. Main St.
Sept. 19
Ivar Nelson of the Idaho Humanities Council will give a talk about the New Deal-era Civilian Conservation Corps at 6:30 p.m. Sept. 19 at the Troy Historical Society.
Nelson's presentation is titled "Historical Stories of the Civilian Conservation Corps Camp" and will include images and stories from Troy residents' recollections.
The society is at 421 Main St.