Art will fill businesses and public spaces Friday and Saturday during Lewiston's ninth annual Downtown Artwalk.
This year's featured artist is Lewiston artist and educator, John Patterson. Patterson taught at Lewiston High School for 31 years until his retirement this year.
The exhibit that opens Friday is a retrospective of Patterson's work that begins during his undergraduate years at Lewis-Clark State College, where he received degrees in both art and biology. Though his style has evolved over the years, Patterson focuses on painting non-objective art -- art that doesn't depict visual reality, but relies on a composition of colors, shapes and other elements.
The paintings, which feature a range of patterns, textures and geometric shapes, aren't intended to represent or "mean" anything. Patterson compares it to a musical composition -- just like the notes create a mood but don't have innate meaning, the elements of the painting create a mood.
While at the University of Idaho, where he received his Masters of Fine Arts, Patterson established his own style. It was also there that he began to number, rather than name his pieces, to better allow the viewer to step into the visual experience without artist bias.
"I don't want to impart my feelings onto the piece," Patterson said.
Another, albeit unintended, result of the MFA program was that it got him interested in teaching -- a responsibility that was required as a graduate student. After pursuing art and exhibiting his work in a number of states, including Nevada, California and Washington, Patterson returned to LCSC to get his teaching certificate. From 1988 to 2019, he influenced countless art students and others at LHS. A number of students have told him he was the reason they stayed in school.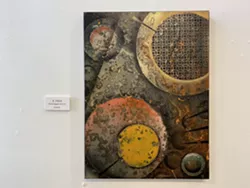 "I'm pretty proud of my teaching career," Patterson said.
One thing his teaching didn't provide was much opportunity to pursue his own art. Patterson would work on paintings or ceramic pieces during the summers, but retirement has offered a more generous schedule, allowing time to complete around 20 new paintings for the Artwalk exhibit.
Patterson recently finished a studio space in his backyard; previously, he worked out of a rented studio space in the Lewiston Orchards. His pieces range in size from small to very large, attracting viewers from across the room and inviting them into rich detail.
"I paint improvisationally," Patterson said, of his process.
That means when he starts a painting, he has no idea what it's going to look like. Using oil paint mixed with enamel, Patterson puts color down and erodes it, creating visual contrast according to what the composition seems to need.
Patterson has consistently used his skills to benefit those around him. During his teaching career, he made himself available to help with art-related needs in the school district. He also created promotional posters for the shows in the drama department, a collection of which are on display during Artwalk at the Lewiston Civic Theatre offices on Main Street.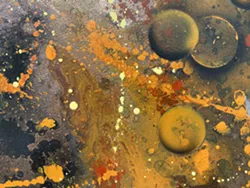 Most recently, he has been a driving force behind the Lewiston Library Foundation's "First Edition Books" fundraising project, in which patrons commission custom ceramic books bearing their name for donations of $100 or $200. Nearly three bookcases at the library have been filled with these books.
"It's a way I can use my art to help worthy causes," Patterson said.
IF YOU GO
WHAT: Local Artist Spotlight Exhibit: John Patterson.
WHEN: Opening reception 5-9 p.m. Friday.
Exhibit runs from 11 a.m. to 4 p.m. Tuesdays through Saturdays through Dec. 14.
WHERE: Lewis-Clark State College Center for Arts & History, 415 Main St., Lewiston.
COST: Free.
IF YOU GO
WHAT: Ninth annual Downtown Artwalk.
WHEN: 4-9 p.m. Friday and noon to 4 p.m. Saturday.
WHERE: Main Street, downtown Lewiston.
COST: Free.